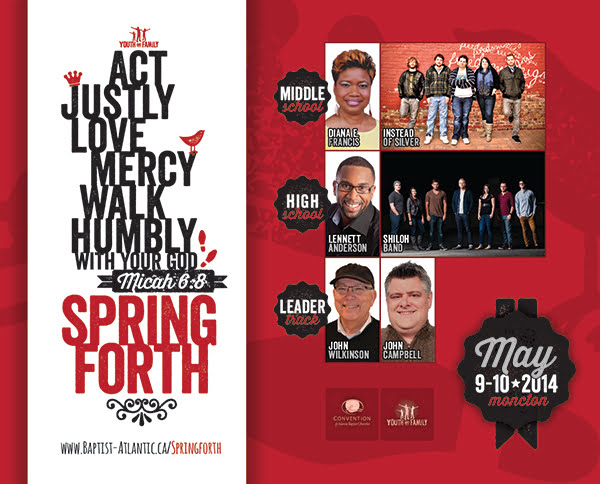 ---
"He has shown you, O mortal, what is good. And what does the Lord require of you?  To act justly and to love mercy and to walk humbly with your God."
Micah 6:8
---
Details:
Speakers:
Middle School – Diana E. Francis, First Baptist Church, Nassau, Bahamas
High School – Lennett Anderson, Emmanuel Baptist Church, Hammonds Plains, NS (@therealLJA)
Leaders – Brett Andrews, Youth for Christ (Note: You may have heard that John Wilkinson was to be speaking to the leaders. Unfortunately, due to a recent health challenge (vertigo) John is not able to be with us, but we are thrilled Brett Andrews is coming and we know he will both encourage and challenge us as leaders.)
Bands:
Registration:
Online Registration closed! You can still register at the door on Friday.
Cost: $50 after April 25th
---
More:
Event Information:
---
About:
Springforth is one of Canada's largest conferences for youth and youth leaders. Held every May in Moncton, NB!