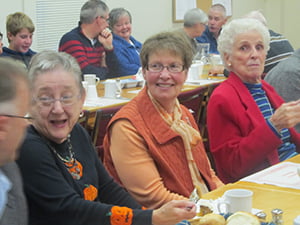 Cambridge Baptist Church (NS) wanted to do something special to help "kick start" the fall season and to celebrate and give thanks for our many blessings. Over the past few months the church has made great strides in restoring, strengthening and building relationships and has advanced its outreach mission through the establishment of some exciting new ministries.
Interim Pastor Rev. John Beers came up with the idea of holding a Fun Night as a way of drawing the church family closer together. This Fun Night would include a supper with entertainment and would provide the church family with the opportunity to relax with one another, with no work involved. On October 26th, fifty-nine members of the church family and friends came together for this special Cambridge Baptist Fun Night.
The supper was catered to by the Blackrock Church Spiritual Life Committee. Noted throughout the Valley for their home cooking, the Blackrock Church prepared and delivered a delicious meal of homemade baked beans, ham, scalloped potatoes, home made rolls and assorted desserts as well as tea and coffee. Many a laugh was shared by all! The Cambridge Church also used the opportunity to challenge the Blackrock Church to another "forty day food bank challenge." Many of the local churches participate in this friendly challenge each December in an effort to raise food for the local food bank . The four churches participating in last year's food bank challenge raised nearly 6 tonnes of food for the local food bank.
Following supper the church family enjoyed an evening of praise music provided by some very talented musicians from across the valley. The Rev. Tim MacFarland, Chaplain, Acadia University played his guitar and ukulele and together with two student chaplain assistants entertained and engaged the church family with a number of selections. Harley Corkum from the Halls Harbour Baptist Church wowed the church family with a selection of traditional hymns played on his fiddle. The Gospel Group Band2gether then upped the tempo with their selections of contemporary Christian music. We were very blessed to have these talented people so generously share their gifts and as written in Psalm 100 to make a joyful noise unto the Lord.
Those who attended the Fun Night are still talking about the great evening several weeks later and are already looking forward to the next Fun Night! There is a kind and generous spirit evident within the Church Family and it was good to have an evening for relaxing, celebrating and laughter.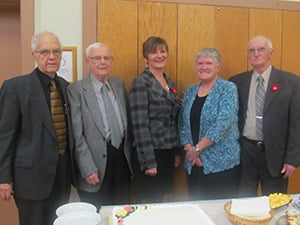 The church was also thrilled recently to welcome five new people into its membership and to celebrate its first Baptism in a number of years. (from left to right): Pastor John S. Beers, Lorimer Sawler (baptized October 27, 2013, received into membership November 3, 2013), Dr. Crystal Todd (Chair, Board of Deacons), Sharon and Douglas Farris (received into membership of Church by transfer on November 3, 2013).
Submitted by Gregory Bishop,
Chair, Leadership Team