Moving Forward in Faith (Part 4)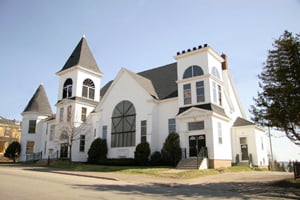 These articles have been about four major changes happening at HBC. They are the Natural Church Development process, becoming incorporated as an organisation, the move to a new site and facility and the deepening of our prayer experience. This article is about the changes in and through prayer.
An ongoing change that was really birthed almost 200 years ago but in recent memory took great strides forward with the Sutera's and Gerhard DuToit is the depth of prayer and connection with God in personal and corporate prayer times. Thursday night prayer meeting is one of the richest times with God that I personally have ever experienced. We are seeing some tremendous answers to prayer.
There are testimonies of healing for physical ailments that are beyond medical science. There are stories of redeeming of time lost to broken relationships in families. The veil between heaven and earth seems very thin as God doesn't just bless us with these things but even better shows up in love and power. If you have not had God's Spirit witness to your spirit that you are His child, you should come to one of the many prayer times – Tuesday Men's Prayer at 6 am, Thursday night prayer meeting at 7 pm, Friday Ladies Prayer at 9:30 am or Sunday Morning prayer at 9 am.
With the reality of the growing and deepening of our collective prayer ministry, we are getting a good reputation locally and beyond about prayers. In my short time here, we have received requests from around the world by people seeking God and seeking people of faith to stand with them believing God is ABLE to do exceedingly and abundantly more than we could ask or think!
With this deepening hunger and thirst for God comes some extraordinary experiences with Him. There are many examples of scripture and church history that are given to us to prepare us for times of refreshing. These are encouraging to me personally. Revival is messy – please do not miss out on it!
The adventure continues! We are moving forward in faith – making a difference for Jesus Christ in our Church, Community and World – One Life at a Time!
Submitted by Rev. Tim Johnson, Senior Pastor, Hillsborough Baptist Church
Part 4 of 4