Crandall Grad Celebrations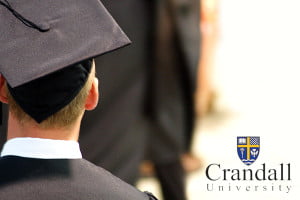 As a part of Crandall's 2015 Convocation celebrations, Crandall University will present Distinguished Alumni Awards to Stephen J. Alward '88 (Executive Director of Green Hill Lake Camp) and Geoff A. Brace '79 (Executive Director of Camp Wildwood). The awards will be presented at a banquet on Friday, May 1 at 6:30 pm in the Stephen S. Steeves Centre (Crandall University). There are a limited amount of banquet tickets remaining. If you would like to attend this event or send congratulatory wishes to either recipient, contact Crandall University's Alumni Department at alumni@crandallu.ca.
Crandall University's Spring Convocation will be held on Saturday, May 2nd at 9:00 AM and 2:00 PM in Murray Hall. Those graduating from the Bachelor of Education, Master of Education, and Advanced Certificate programs will be recognized in the morning ceremony. Graduates of the Bachelor of Arts, Bachelor of Business Administration, Bachelor of Science, and certificate programs will be recognized in the afternoon ceremony. The 2015 Convocation Speaker will be Dr. Brian Stiller, the Global Ambassador for the World Evangelical Alliance and the Founder of Canada's national magazine, Faith Today. To read Dr. Stiller's biography, click here. Convocation is an open event, so tickets are not required for entrance.