Crandall Partners with Study Abroad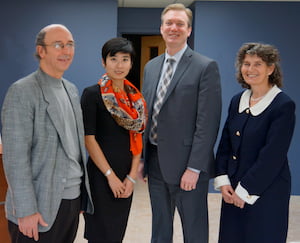 Crandall University has formalized a partnership agreement Study Abroad Canada Language Institute (SACLI) to develop a University Preparation Program for international students.
The agreement combines SACLI's success as a leading provider of accredited language training programs and Crandall University's reputation for liberal arts, sciences and professional studies. The University Preparation Program is an advanced level program designed to prepare students for advanced academic challenges. Offering the program on the Crandall University campus will help provide a seamless transition to post-secondary studies for international students.
"The signing of this partnership agreement demonstrates our commitment to continuing to expand the opportunities offered for international students studying in Canada," said Sherry Huang, SACLI President and CEO.
"Our goals are to work closely with students, to provide high quality programs and to ensure our students are prepared to succeed in their educational pursuits."

The agreement will be beneficial on many levels, said Helen Green, SACLI Managing Partner. She said it will help increase international student enrolment at both schools as well as build familiarity with post-secondary programming and campus life for students.
"We will now be able to offer opportunities where students can study for a period of time in Charlottetown or Moncton with a seamless entry into Crandall University," said Green.
Dr. Bruce Fawcett, President and Vice Chancellor of Crandall University, said the agreement brings together two institutions committed to providing high quality education to international students. He said SCALI's accreditation and well-developed recruitment network will mesh very well with Crandall's reputation for academic excellence.
"Study Abroad Canada Language Institute has a well-earned reputation for attracting international students by providing top quality language programs. At Crandall we have built a standard of student excellence through academic integrity focused on holistic growth and personal development. This partnership will enhance the overall student experience at Crandall," said Dr. Fawcett.
Crandall and SACLI will begin marketing the University Preparation Program immediately and the first program will be offered in June 2013.
Photo: Seth Crowell, Vice President for Academic Affairs, Crandall University; Sheri Huang, SACLI President and CEO; Dr. Bruce Fawcett, President, Crandall University; and Helen Green SACLI Managing Partner.