Crandall University Faculty Of Business Awards Scholarship In Ethics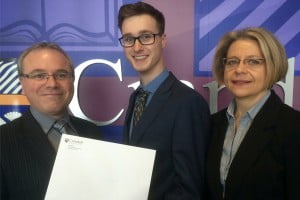 The Crandall University Faculty of Business Administration announced the recipient of the $3,500 Gord and Marlene (Steeves) Read Scholarship in Business Ethics as Jeff Bandy of Moncton, NB. Over the course of four years of study at the University Jeff distinguished himself both academically and within the community through his studies in accounting, contributions to student government, and service to his local church.
The Gord and Marlene (Steeves) Read Scholarship was established in memory of prominent business leaders Stephen and Ella Steeves, and is awarded to a student in the Bachelor of Business Administration program who has demonstrated academic diligence and keen interest in business ethics. The annual recipient is recognized as being one of the most promising future graduates in terms of applying ethical standards based on a Christian worldview within their future practice of business.
"I feel extremely honoured to have been selected to receive this prestigious award. I am thankful for the opportunities Crandall has provided as I pursue my career aspirations in the accounting field," Jeff stated after a brief ceremony at the University. "Through generous donors like Gord and Marlene (Steeves) Read, students like myself are given the opportunity to succeed as Crandall continues to carry out its mission of quality education." Jeff plans to continue his studies after graduation via the pursuit of a Chartered Professional Account (CPA) designation.
"Students like Jeff Bandy represent the best Crandall's Business program has to offer," said Robert MacDonald, the University's Stephen S. Steeves Professor in Business. "His commitment to excellence, ethical practice, and the integration of faith and learning has served as an inspiration both inside and out of the classroom. We're very proud of his achievement."
The Crandall University Faculty of Business Administration offers concentrations in Accounting, Economics and Finance, Management, Marketing, and General Business Administration. The Faculty's motto "Excellence. Integrated." speaks to its goal of being a leader in the integration of business and the Christian faith.
Crandall University, located at 333 Gorge Road, is a Christian liberal arts and science university with a mission of providing "quality university education firmly rooted in the Christian faith." Undergraduate degrees are available in Arts, Science, Business Administration and Education. For more information visit our website at www.crandallu.ca or call 1-888-968-6228.
Photo attached: Ethics Scholarship – Crandall University Management Professor Robert MacDonald, Business Student Jeff Bandy, and Accounting Professor Heather Steeves.