Crandall's Installation of Dr. John Stackhouse Jr.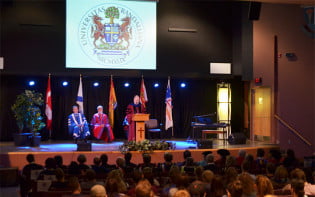 On September 16th Crandall University installed Dr. John G. Stackhouse Jr. as the inaugural Samuel J. Mikolaski Professor of Religious Studies. With over 200 students, faculty, staff and guests present, Dr. James Rusthoven, Vice President of Academic Affairs, inducted Dr. Stackhouse.
Dr. John G. Stackhouse Jr. was born in Canada, and raised in southeastern England and northern Ontario. He was educated at Mount Carmel Bible School in Edmonton, Queen's University at Kingston (B.A., First Class Honours), the Wheaton College Graduate School in Illinois (M.A., with Highest Honors), and The University of Chicago (Ph.D.).
After teaching briefly at Wheaton, he began his full-time career as an assistant professor of European history at Northwestern College in Iowa, a professor of religion at the University of Manitoba, and most recently the Sangwoo Youtong Chee Professor of Theology and Culture at Regent College.
Professor Stackhouse is the author of eight books (the ninth will be published next month), the editor of four more, and the author of over 600 articles, book chapters, and reviews in academic publications, major newspapers, and magazines. He has received more than a dozen research grants, and his writings range over history, sociology, philosophy, theology, ethics, and comparative religion.
He has won over a dozen awards from the Canadian Church Press for his journalism, and the University of Manitoba presented him with its Outreach Award for his work in broadcast media. He is a long-time member of the editorial boards of Christianity Today and Books & Culture magazines, and serves as a columnist for Faith Today.
Professor Stackhouse has lectured at Harvard's Kennedy School, Yale's Divinity School, and Stanford's Law School, among many other American universities; in the United Kingdom, China, India, Israel, Korea, Australia, New Zealand, and Malaysia; and in Canadian universities from Acadia to UBC. His commentary on religion and contemporary culture has been sought by major broadcast and print media as diverse as The New York Times, The Atlantic, ABC News, CBC Radio, Time, and Reader's Digest. And he has preached and taught in a wide range of churches, including Anglican, United, Presbyterian, Reformed, Lutheran, Baptist, Methodist, Brethren, Pentecostal, Mennonite, Missionary Alliance, Evangelical Free, and independent.
Married for more than thirty years and the father of three sons and a new daughter-in-law, Professor Stackhouse has enjoyed skiing and hiking the Vancouver-area mountains with his family and hitting the road on the motorcycle he inherited from his father. He now looks forward to snowshoeing in Moncton and exploring the beauties of the Maritimes. He is also a jazz musician, and has backed Steve Bell and Carolyn Arends, among other artists.
This Academic Chair is named in honor of Dr. Samuel J. Mikolaski, who served as Crandall's fourth President (1980-1983). Dr. Mikolaski is best known for his role in leading the effort to update Provincial legislation allowing Crandall to award undergraduate degrees. This legislation, in turn, was subsequently updated several decades later to permit Crandall to award degrees at the undergraduate and graduate level.