Intentional Interim Ministry Training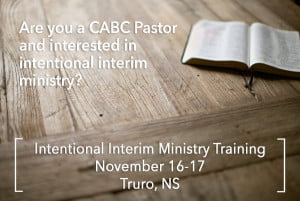 Transitions in pastoral leadership in a church are often times of substantial challenges as well as opportunities. Intentional interim leadership during these transitions can provide churches with a fresh perspective and a higher level of ministerial competence to address these inevitable challenges and opportunities.
Intentional Interim Ministry can lead to healthier transitions and healthier churches.
On November 16 – 17, the CABC is offering an Intentional Interim Ministry Training event for CABC pastors who want to gain some interim ministry skills to help churches in pastoral leadership transitions. We want our churches to have access to ministry leadership who can help provide consistency and the capacity to ensure congregational health and ongoing effectiveness.
Topics will include:
• Principles of Transition
• Why Intentional Interim?
• Options for Transition
• 8 Goals of Transition Period
• 4 Questions for a Church
If you are interested in this opportunity, here's what you'll need to know:
When: 1:30 pm – Monday, November 16th until 2:30 pm Tuesday, November 17th
Where: Truro, NS. Best Western Plus – Glengarry Inn, 150 Willow Street, Truro, NS B2N 4Z6
Cost: Total cost includes Monday night supper and accommodation, Tuesday breakfast and lunch, two breaks as well as seminar information – $100/person (if your spouse attends their cost is an additional $50). Please contact wendy.jones@baptist-atlantic.ca if the cost is prohibitive for you attending.
Who: Credentialed CABC Pastors (includes people that have met with and been approved candidates for pastoral ministry by the Board of Ministerial Standards & Education).
Register: Space is limited. Your PAID registration secures your spot. Register by November 3rd at: https://atlbaptist.wufoo.com/forms/intentional-interim-ministry-training/
Facilitator: Rev. Dr. Gordon Sutherland
Host: Rev. Greg Jones, AEM, Director of Center for Congregational Renewal, CABC