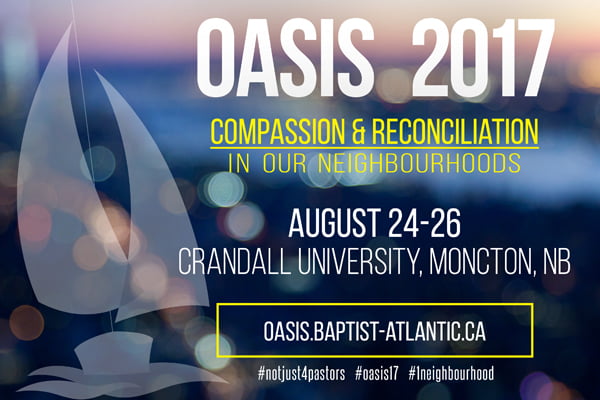 Oasis 2017 officially gets underway two months from today – August 24-26! Have you registered yet? Booked your accommodations? Have you checked out the brochure we sent out a few months ago? See it here: Oasis17-Registration-Brochure-final-web.pdf.
One change to note is our worship band. Due to unforeseen circumstances, the Fraser Campbell Band will not able to be with us for 2017 but we are planning on bringing them back for 2018. We are pleased to welcome an east coast band from St. John's, NL, the Informants – http://oasis.baptist-atlantic.ca/bios/informants/. They are all about 3 things: Worship, Purpose & Mission. Worship is the start. Mission always follows. Based out of St. John's, NL, they are pioneering a movement of acceptance, art, worship, and mission in their local communities and churches. Check them out here: www.informantsmusic.com.
So maybe you haven't quite decided if you're going to Oasis. Here are the top ten reasons to turn your indecision to a decision to go and be apart of the biggest Baptist family gathering in the east (in no particular order):
Celebrate what God is doing in our neighbourhoods and ways we've joined him in Atlantic Canada.
Meet new people and reconnect with others you haven't seen since Oasis 2016.
Amazing speakers! Listen and be inspired to do something new in your home church. What happens at Oasis should be shared with your church. It's not Vegas folks!
It's not only for pastors – it's for everyone! Invite someone who's never been to Oasis.
Bring your kids – Oasis Kids & Youth are a great way to end the summer.
Enter the Soul Café – take some quiet time and listen for God's voice.
Early Morning Prayer Time – prayer is like breathing for the Christian. We need it to live and thrive. If you're an early riser, come join others on campus to pray.
Are you a runner? We've heard rumblings of an impromptu informal "fun run" (should be an oxymoron). All we can say is talk to Garth Williams or Renée Embree to find out more.
We hear the best music at Oasis! Have you seen the lineup? Informants, How & Rachel Kwan & Cheryl Bear (special thanks to CBM).
It's a great way to end the summer! A Baptist family reunion!
We can easily come up with more great reasons (Canada 150, great seminars, Oasis Café, ADC/Crandall/CBM presentations) and we're sure you can too.
So come join us at Oasis 2017! Register today!
We want you to say #SeeUatOasis17!