Oasis 2023 – Good News for our Neighbourhoods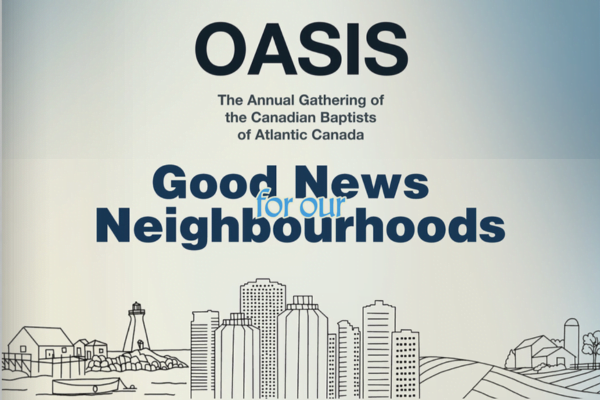 Oasis 2023 is set for August 10-12 at Crandall University in Moncton, NB! We hope you are now making plans to be there!
Our CBAC family can expect a joy-filled gathering as we celebrate our shared mission and stories of God's work in our denominational family. We'll worship together, share updates, discuss and vote on family business, and enjoy fellowship. In addition to the main schedule of activities, we'll be facilitating special events alongside our partner organizations, as well as fun and engaging programs for kids and youth.
This year we're thrilled to have Jason Ballard as our guest speaker and to hear a message for our CBAC family from Dr. Terry Atkinson as well.
Accommodation and meal options: https://oasis.baptist-atlantic.ca/registration/accommodations-meals/
Schedule: https://oasis.baptist-atlantic.ca/schedule/
A few highlights on the schedule: 
Leadership Forum + Q&A re: family business items – Thursday afternoon @ 2pm
Thursday evening reception to honour retiring Executive Minister Dr. Peter Reid
Breakout sessions – Friday afternoon and Saturday morning
Partner updates
More coming soon!
Family business: https://oasis.baptist-atlantic.ca/registration/family-business/
Delegate info: https://oasis.baptist-atlantic.ca/delegates/
Kids & Youth info:
New this year we are hosting CAMP OASIS
For parents coming to Oasis 2023, this year we're excited to pioneer a special experience for your children aged 7-13, in partnership with Camp Wildwood. CAMP OASIS is a brand new overnight camping experience, and it's made possible by the generosity of Atlantic Baptist Foundation, whose sponsorship is subsidizing over 85% of the cost. The program is designed so that you can drop off your young people on Thursday, take in the full schedule of Oasis, then pick them up after Oasis wraps up on Saturday afternoon. Camp Wildwood's dedicated staff will be leading this program, and we're grateful for their partnership.
Both of the following forms need to be completed for your registration for Camp Oasis: Register campers for Camp Oasis | Complete the Parent/Guardian Info Form
Onsite Childcare – available for children K to grade 3!. Register for this as part of the Oasis registration (adult registration required). Register Now!
Registration cost:
Early Registration Fees (Until July 15th, 2023) – $80/adult
Regular Registration (After July 15th, 2023) – $90/adult
Camp Oasis – $40/child