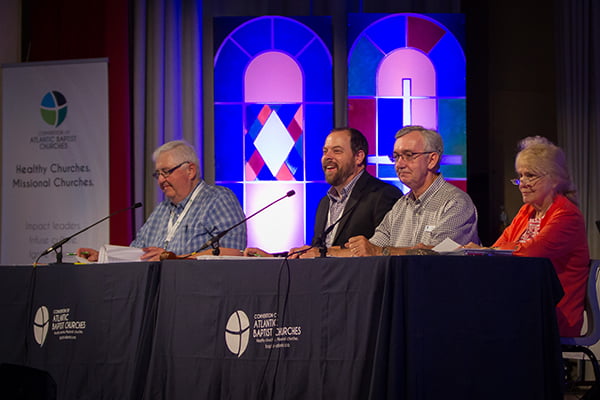 Part of our gathering at Oasis is to work through some Family Business. Making decisions on budgets, mission and ministry are an important part of our work together as Atlantic Baptists. Churches send delegates to vote on these important matters. Here's everything you need to know about Family Business sessions before coming to Oasis (also on the Oasis website – http://oasis.baptist-atlantic.ca/family-business):
Notices of Motion (requiring 180 days notice):
Atlantic Baptist Foundation
Pension & Benefits Board
CBAC Council and the Atlantic Baptist Foundation:
http://oasis.baptist-atlantic.ca/wp-content/uploads/2014/06/Notice-of-Motion-Oasis-2017-Baptist-Foundation-By-laws-revised.pdf

Other items that will be voted on (not requiring 180 days notice):
2018 CBAC Budget
Nominating Committee Report
Vote on Vice-President
Voting on Senior Staff Re-appointment – Paul Carline, Garth Williams, Kevin Vincent
Vote on affirming the closing of the Antigonish-Guysborough Association and that the churches of that Association have now joined the Colchester-Pictou Association and continue to be members of the CBAC.
If you are a delegate:
The notices of motion for our family business session at Oasis 2017 have been sent out to churches, associations, pastors and clerks by mail according to the 180 day rule as stated in our general operating bylaw (https://baptist-atlantic.ca/bylaw). The information will also be available here, on the Oasis website (http://oasis.baptist-atlantic.ca) and will be posted on social media.