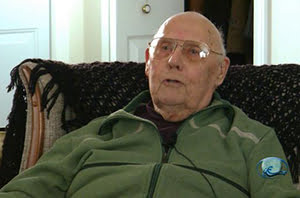 A faithful servant to his Lord and to the CABC churches here in Atlantic Canada, Rev. Dr. Keith Hobson, 94, passed away this past Sunday at his home. As a retired pastor, former CABC Executive Minister (1970-1983), and Interim General Secretary of the Baptist Federation of Canada, Dr. Hobson leaves a lasting legacy for us to carry on.
Here is his obituary:
The family of Rev. Dr. Keith R. Hobson announce his passing on May 26, 2013 at his home in Saint John, from this life into a blessed eternity with his God and Saviour. Keith was born December 1918 in Lewes, Sussex, England. At an early age Keith accepted Jesus Christ as his Saviour and Lord. At age twelve God called him to start preparing for full-time ministry, and by his late teens he was preaching regularly. The guiding principle of his life was that, considering all that Jesus Christ had done and given for him, Keith could not give any less than his best for his Lord.
In 1940 during the Blitz, Keith married his life partner Daisy (Carter) and they entered into ministry together. In 1949 they followed God's call to minister in the Maritimes, serving in Glace Bay, Cape Breton then Lawrencetown in the Annapolis Valley, NS. They then served ten years in Summerside, PEI before moving to Germain Street Baptist Church in Saint John, NB. Along with pastoral positions, Keith held numerous leadership posts within the Baptist organizations of the Atlantic Provinces. He was pastor and mentor to other pastors and church leaders right to the end. He was President of the Convention of Atlantic Baptist Churches then in 1970 he became Executive Minister of the Convention, a position he held for 14 years. He was founding Chair of the Board of Governors of Acadia Divinity College, served on the Board of Atlantic Baptist College (Crandall University) and The Spencer Memorial (Seniors) Home. He headed the Board of Ministerial Standards and held many other leadership positions.
Following his retirement from the Executive Minister position, he served as Interim General Secretary of the Baptist Federation of Canada, then returned to pastoral ministry which continued until his late 70s. He then retired for the last time to care for Daisy who was in declining health who passed away in 2002. Now they are rejoined in heaven.
Keith was the son of Alan and Edith (Brixton) Hobson, and his children are all true Maritimers. Keith and Daisy are survived by brother Alan (Jean) of Uxbridge, England and sons Neil (Susan), Clive (Elaine), Roy (Doris), Adrian, and daughters Joy and Heather Telman (Gerry), and grandchildren Robert, James, Belinda, Ben, Colleen, Andrew, Sharon, Gregory, Kristina, Leah, Georgia, Nate and 12 great-grandchildren.
The family wants to express sincere thanks to Dr. Chris O'Brien and to Roy Morrell, his personal care worker and special friend over the past 4 years.
Arrangements are under the direction of the Fundy Funeral Home 230 Westmorland Road (646-2424). Memorial service will be held from the Grand Bay Baptist Church, 77 Woolastook Drive Grand Bay Westfield, NB on Friday May 31st, 2013 at 2:00 p.m.
In lieu of flowers donations in Keith's memory can be made to the Grand Bay Baptist Church 77 Woolastook Drive, Grand Bay-Westfield, NB E5K 1S3, The Sharing Way at www.cbmin.org/cbm/home (905-821-3533, Canadian Baptist Ministries 7185 Millcreek Drive Mississauga, ON L5N 5R4 or to the charity of the donor's choice. To send a message of condolence please visit http://www.fundyfuneralhome.com/obits/obituary.php?id=300726.
Below are links to a video we had the privilege of recording as Dr. Hobson recounted his life's story. Feel free to share these with your churches.