Crandall University's New Chancellor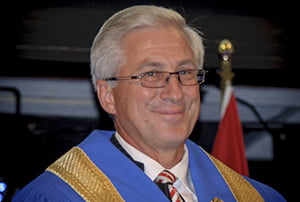 As a part of Crandall University's 65th Anniversary celebrations, Mr. Donald Simmonds was installed as the University's third chancellor. In this role, Mr. Simmonds will be the honorary head of the University; serve as an ambassador; and present all certificates, diplomas, and degrees as conferred by Crandall University.
"Our lives have been intertwined here with the people of Crandall in some way or another, for the last 25 years. This makes our new involvement with you very special indeed," said Mr. Simmonds.
"We are delighted Don has agreed to serve as Chancellor" said Dr. Bruce Fawcett, President and Vice-Chancellor of Crandall University. "He brings a wealth of wisdom and experience and a heart for our students–we are extremely thankful to have him on board."
In his installation address, Mr. Simmonds led the congregation through his decision to accept the appointment. He concluded that after prayerful consideration, he accepted the role based on three distinct marks he saw in the Crandall community: A belief in the potential of young people; high standards of excellence; and loving and obeying the Creator, the source of all wisdom.
After the installation service, Crandall Student Association President, Matthew Wheaton commented, "Mr. Simmonds' heart for both ministry and students was wonderful to see. His strengths make him a perfect fit for us as Chancellor."
Mr. Simmonds is known as a "serial entrepreneur", having been involved in over 25 new ventures in the last 35 years. The businesses cover a diverse range of ideas from consumer audio products to solar electric power to dairy farming! He is a Queen's Jubilee medal recipient and currently Chairman of the Board of Crossroads, the largest Christian Television ministry in Canada, and producer of 100 Huntley Street.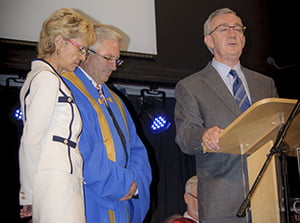 Mr. Simmonds and his wife, Fay, live in the small rural town of Uxbridge, Ontario and met in high school. They have been married for 39 years and have four children and one grandchild. Shauna (31) is married to Jodie and have a daughter, Jacobie; Craig (28) married to Heather, Brett (27) and April (17). They have enjoyed a full life focused on two rapidly changing environments: the electronics business and the teenage world.
The Simmonds were youth leaders at Uxbridge Baptist Church for many years. From 1991-1994 Don left the business environment to work more intensely with youth as the National Youth Coordinator for Canadian Baptists, and from 1994-1997 was the Executive Director of Toronto Youth for Christ (now Youth Unlimited). From 1980 to 1990 Mr. Simmonds served as Canada's representative to Baptist World Alliance Youth and assisted in the planning of world youth conferences in Argentina, Scotland and Zimbabwe.
Mr. Simmonds enjoys being a private pilot, serves on a number of profit and not for profit boards, and particularly appreciates the opportunity to coach the young men on the Uxbridge Tigers High School Hockey team whose motto is "winning at hockey and winning in life"!
The Crandall community enjoyed the Simmonds' company during the 65th anniversary celebrations and is looking forward their involvement in the coming years.
Crandall is delighted to welcome Mr. Simmonds back to campus in a few weeks to confer degrees and certificates at the Fall Convocation ceremony on November 1, 2014.