Announcement: Rev. Elias Mutale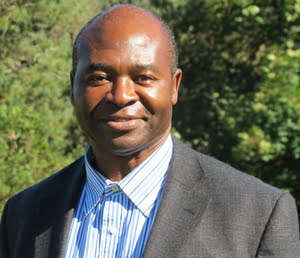 Below is a message from Dr. Peter Reid, Executive Minster CABC:
I am writing today to inform you that after prolonged discussion and negotiation with our office, Rev. Elias Mutale has decided to conclude his ministry as a Senior Staff member of the Transition Team of the Convention of Atlantic Baptist Churches. You may be aware of the fact that Elias and his wife Sheena were in an unfortunate car accident in 2011. Elias attempted on several occasions to come back to work full time from the injury but there have been lingering effects of a concussion. Last Spring, Elias was on medical leave for several weeks and following a trip to Africa attempted unsuccessfully to return to full engagement in the ministry with the Convention.
It became evident to all of us that Elias's health, though improving was not going to permit him to return to full time work with the Convention at this time. Although going on medical disability leave was an option, Elias felt that he would continue to struggle internally with not being able to be a fully productive member of the team. In light of all of the information and the reality of the situation we arrived at a mutually agreeable decision which allowed Elias to conclude his responsibilities with the Convention as of October 31, 2012.
As Executive Minister, I want to say that I have deeply appreciated Elias as a Regional Minister and as a member of the Transition Team. Elias has proved his wisdom and his ability as a leader among us for the past ten years. I believe it is very evident that the work Elias has done in the African United Baptist Association has strengthened the leadership of the AUBA and raised the partnership and the profile of the African United Baptist Association in the Convention family. We definitely are stronger in our relationships together as a result of Rev. Elias Mutale's ministry among us. Personally, I want to thank Elias for his strong leadership and for his role as ambassador for the Convention and a mentor to pastors and churches, both in the African United Baptist Association and in our wider Convention family.
Speaking about his time as a Senior Staff member, Rev. Mutale says:
"Among the goals of Regional Ministry were the need to bring the Convention family nearer to each other for a greater sense of connectedness and mission. As Regional Minister for the AUBA, which was still somewhat on the periphery then, I had the added element of being the frontline face and bridge builder. I thoroughly enjoyed this work. Now I watch like a satisfied parent how integral the AUBA is in the Convention family. Many AUBA churches/ pastors are also thriving.
As I leave a staff position, I want to emphasize to our whole constituency that the Convention is a family like no other. We serve together and are stronger because of it. A stronger Convention is what we need to aim for remembering that the Convention is always attending to a large part of the family even when you do not think so. Sooner or later it will be your turn to be blessed. May God bless you in your part of the vineyard. My wife Sheena joins me with our children in saying thank you for ten wonderful years."
We are going to miss Elias and Sheena deeply as they make a transition to a new phase of life and ministry. I'm fully supportive of Elias' new direction and look forward to the new year when his ministry takes shape Serving In Mission (SIM)Canada and Zambia. Well done Elias, we look forward to continued partnership as the Lord leads you in the days to come.