We continue to share stories of baptisms as you send them in. While we love to hear the numbers, we love getting the stories. Hearing the stories of God changing lives, making that public declaration that Jesus's love changed a life – this is what it's about!
Here's one from Rev. Linda DeMone from Rossway United Baptist Church (Digby, NS):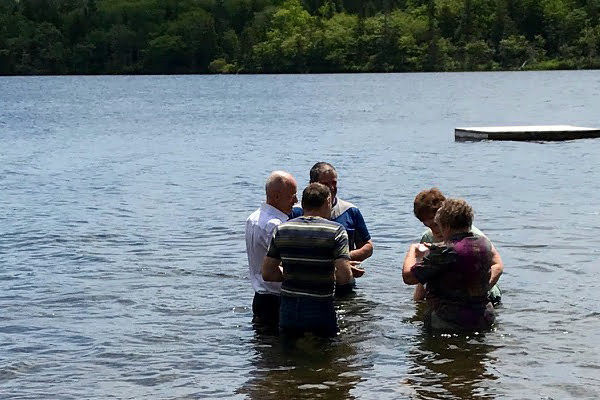 Pastor Linda asked for people I believed wanted to accept Christ in their life. Something seemed to push me to go up with her , I am not a person who gets up in front of people. Once I got up there I felt a little uncomfortable with no one else up there. But after a few minutes I relaxed and felt comfortable as it was where I needed to be.
I knew it was Gods help that had got me there.
I knew it was all happening for a reason and God was working in my life helping me.
I also knew it was the right time for me to finish what I had started years ago with God in my life. So next step was Baptism this gave me a peace and wonderful feeling with God in my life.
I was Baptized June 24, 2018 , by Pastor Linda DeMone.
– Christine Lent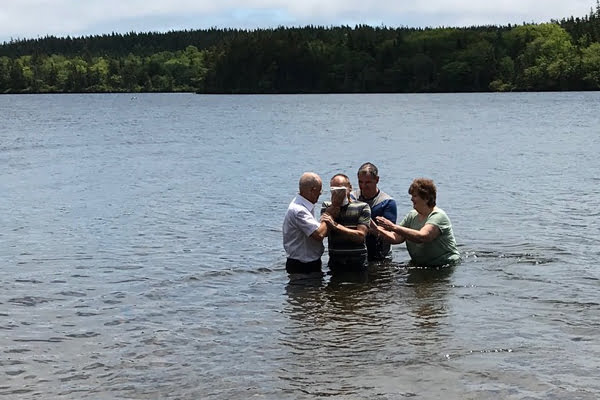 Francis McCullough grew up under a huge influence by his grandmother who wanted him to be saved. When Pastor Noel at Little River Baptist Church asked if anyone wanted to be baptized, he waited about a month and then the week before Christine's baptism took place, he decided to receive Jesus into his heart and (Linda) helped Noel and Tim baptize him.
Both Christine and Francis were baptized at Lake Midway, Digby Neck on June 24th by Pastor Linda DeMone, and by Pastor Noel Facey, with help from Pastor Tim Long.