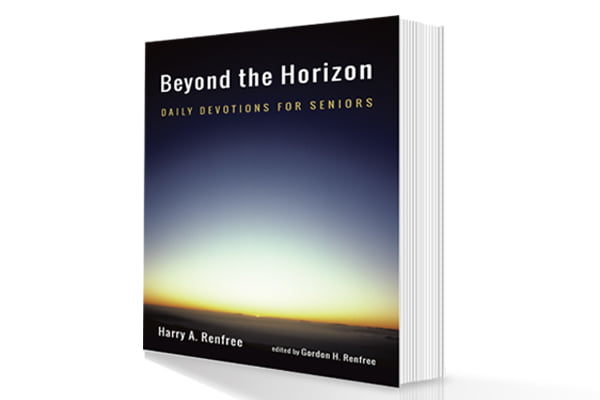 "Every day we live is a gift from God, a very special gift for seniors and even for senior seniors. Sometimes we wonder about the value of the gift when our bones ache and our bodies are tired and weary. We may feel low and remark, 'It's just not my day.' We need to think of each day as God's day – His very special gift to us, and then we will likely have a totally different attitude." (Rev. Dr. Harry A. Renfree, edited by Gordon H. Renfree; Beyond the Horizon: Daily Devotional for Seniors)
Recently Gordon Renfree contacted us about a book he compiled from several devotions his dad had written over the years. Gordon is the son of Rev. Dr. Harry Renfree, former General Secretary of United Baptist Convention of the Maritime Provinces of Canada (now the Canadian Baptists of Atlantic Canada) from 1958 to 1967.
Rev. Dr. Harry Renfree pastored churches across Nova Scotia & New Brunswick (Gaspereaux, Mulgrave Park & Sussex Baptist Churches), served as Stewardship Director and then General Secretary of the United Baptist Convention of the Maritime Provinces of Canada (1958-1967). He & his family then moved to western Canada where he served as Executive Minister of the Baptist Union of Western Canada for fourteen years.
After Harry passed, Gordon discovered a box of handwritten papers which turned out to be devotions written by his father. After reading these, Gordon endeavoured to type, edit and compile them into a book. "It is my hope that many will be blessed by the book," says Gordon. "Profits from the sale of the book will be given to a scholarship fund established by Harry and Rose Renfree for students at a seminary in Cochabamba, Bolivia."
More information about the book and the fund can be found at the website for the book, http://beyond-the-horizon.info.
Below is a quote from the website:
"The fastest growing age group in the United States and Canada is seniors. As seniors go through the trials and tribulations that come with their advancing years, they are seeking peace, comfort, and hope. Beyond the Horizon contains a treasure chest of devotions that focus on these areas. This positive, encouraging book contains a compilation of devotional thoughts based on actual devotions presented to a group of seniors by a senior."
"The devotions follow a daily format. Included are devotions for Christmas, Easter, Valentine's, and other special days. Beyond the Horizon is written in a straightforward style, making use of pertinent, thought provoking illustrations to engage the interest of the reader. The numerous Scripture references are used effectively to clarify, enhance, and extend the theme of the devotions. These inspirational devotions will strengthen you and bring an increased consciousness of God's daily presence in your life."
The book can be purchased online in paperback or e-book format: