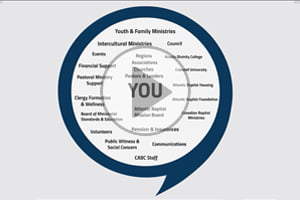 For more than 100 years, the Convention of Atlantic Baptist Churches has been committed to our congregations and pastors, providing them with resources, services and support that help them to be healthy and missional. God has blessed this partnership. And your commitment remains essential in this next chapter of our mission.
Wondering who the CABC is and what it is that we do? Check out this video. It will give you "The Big Picture" about our shared mission here in Atlantic Canada.
To view/stream – See below.
To download – Vimeo.com https://vimeo.com/104347546 or Sync.com
Most of our videos are available on our Vimeo channel (http://vimeo.com/atlanticbaptist). Available for streaming or download (to download sign up for a free vimeo.com account).
Please share in your churches!