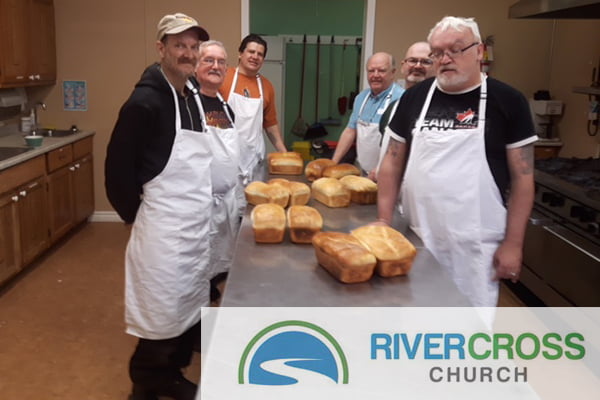 Jim Butler – I was born and have lived most of my life in the North End of Saint John, New Brunswick. My wife, Wendy, and I live not far from RiverCross Church. I taught art in various public schools in Saint John, later graduating from the Atlantic School of Theology with a master of divinity degree, after which I became a pastor for a few years. I then became a hospital chaplain and later the director for spiritual care at Saint John Regional Hospital. I retired in 2010.
Two years ago, Wendy and I heard about RiverCross Mission, a ministry of RiverCross Church. The mission is located on Main Street in the North End of Saint John, one of the city's poorest neighbourhoods. Immediately we felt at home and welcomed by everyone at the Mission, including Rev. John Knight, the community outreach pastor at RiverCross. Every Friday, the Mission and its people filled a void in our spiritual lives. Being part of the Mission community has encouraged us to now become full members of RiverCross Church.
RiverCross Mission is basically a community of North Enders who gather for prayer, worship, conversation, and meals three days per week, and in smaller cell groups for more intimate fellowship and personal edification. I lead one such group of men called Bread Rising.
Some years ago, I learned to make bread from a dear friend, Father Robert Lauder, who made bread for his fellow priests in a monastery. Breadmaking has been one of my private spiritual practices where I can become quiet, listen to and speak to God. It was while making bread that I had my great awakening to the presence of God and Jesus Christ as my Lord and Saviour. I have always desired to share this deeply personal practice with other men.
In the Bread Rising group, we seek to walk as companions with those who struggle for daily bread even as they also struggle for meaning and purpose in life. Making, sharing, and eating bread together becomes a subconscious reminder of proclaiming the kingdom of God ushered in by Jesus Christ, the Bread of Life, who was born in Bethlehem, which in Hebrew means House of Bread.
The men involved with Bread Rising gather every second Thursday, 10 a.m.to 1:30 p.m., to make bread and to share in a nonintrusive way what is happening in our lives. The structure is the same as your kitchen and just as intimate, immediate, and spontaneous. There is no guile in what we do or who we are. There is much laughter and good fellowship. The practical act of making bread together becomes a time of social and spiritual creativity that draws us together as "family."
Through this experience, we have all become more open, grown in self-esteem, and have been strengthened in our faith. In fact, we have been led to minister to our larger circle of friends at RiverCross Mission. Last year, we prepared and served them a meal, and we will be doing so again this spring. We have also led in ministry at RiverCross Church by baking unleavened bread and assisting in serving communion on RiverCross Mission Sunday last June. Our next project is to bake bread for the deacons to take on their communion visitations to shut-ins.
The men involved with Bread Rising are discovering what love of neighbour means, and are finding ways to express it through the practices of gentle, mutual self-discovery, creativity, and giving to others. And, in our times together, we are discovering Jesus Christ among us, proclaiming the kingdom of God. We look forward to the full coming of his kingdom someday. But until then, the men of Bread Rising join with you in saying, "Maranatha! Come, Lord Jesus, come!"
This article appeared in the April 2018 issue of Tidings Magazine, under the title, "Raising Bread, Raising Spirits." https://www.atlanticbaptistwomen.ca/tidings