CBAC Welcomes Jeff MacArthur, New Interim Director of Operations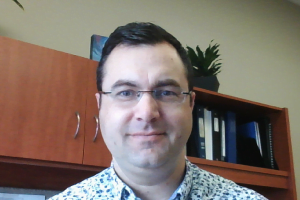 MONCTON, NEW BRUNSWICK, April 28, 2021—The Canadian Baptists of Atlantic Canada are pleased to announce that Jeff MacArthur has accepted the position of Interim Director of Operations, effective May 3rd, 2021.
Jeff will serve in a part-time capacity with CBAC. He brings significant experience and a deep love for our CBAC ministries. He has served as CEO of the Atlantic Baptist Foundation (a role he will continue to hold), taught in the Business department at Crandall University, and worked in the field of Real Estate Management and Development for several years. He lives in Riverview, NB, with his wife and three children. Jeff is a dedicated member of The Journey Church Moncton.
Jeff shared this statement as part of today's announcement: "I'm pleased to jump into this interim role for a season in an effort to help give some stability and input to the team as the CBAC carefully walks through next steps of what it means to join God in our neighbourhoods. COVID aside, we live in a challenging time as society questions the validity of faith, and it is ever-present that this world (our neighbours!) needs to know the love and saving grace of the One who we know provides. A strong administrative team allows our CBAC leadership to focus on tackling the ministry issues that our churches face, and I look forward to working with this team."
Commenting on today's announcement, CBAC Executive Minister Peter Reid says, "I am very excited to welcome Jeff MacArthur to our team. Jeff is deeply committed to the CBAC family and brings excellent leadership skills to us. As he shares his expertise with us, I believe we will be stronger as we support our churches!"
Recognizing the need to eliminate the possibility and perception of a conflict of interest, Jeff, along with the CBAC and Atlantic Baptist Foundation, has agreed to recuse himself from any important financial decisions in both of his roles that involve the relationship between the two organizations.
CBAC Thanks Heather Burke as She Concludes Her Service as Interim Director of Finance
The CBAC also announced today that Heather Burke, CPA, CA, will conclude her role as Interim Director of Finance, effective April 30th, 2021. Heather has served with the CBAC since January 2018. In her role, she has helped the organization move through very important challenges, including the sale of the Saint John building and key upgrades to accounting software and processes. Heather will continue in her role as Vice President for Administration & Finance at Crandall University, which she has held since 2007.
Peter Reid shared his gratitude for Heather's service today: "I am deeply grateful for the excellent work of Heather Burke. With all of the changes in the past few years and navigating a whole new accounting system, she has set the CBAC up for success and gained the trust of our Auditors in presenting impeccable financial statements. Thanks, Heather—we will miss your expertise and we appreciate all you have done for the CBAC."
The Canadian Baptists of Atlantic Canada is a ministry partnership of more than 450 Canadian Baptist churches and 20 Associations in the Atlantic Provinces. Our role is to resource our pastors, churches, and people, and to facilitate shared mission on behalf of our churches.