Conversations With New Canadians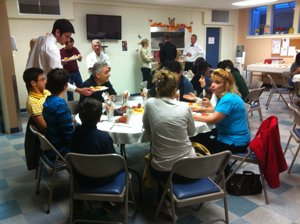 Our "Traditional Canadian Thanksgiving Dinner" went incredibly well… We didn't make it a "ticketed" event, so we had no way to gauge the number of people coming in advance. We decided 150 was the maximum we could accommodate in the building over the course of two shifts (we hosted the meal at the Salvation Army), so in faith we prepared a meal for that many. We had over 30 volunteers preparing and serving through the whole day, and a crowd began gathering before we even opened the doors. The foyer area was staffed with greeters serving punch and welcoming people as they gathered or waited for the second seating. All told we served almost 120 people from China, Iran, Bhutan, Japan, South Africa, and perhaps others – it was very well received and a lot of fun!
"That in itself was a huge thrill for our church, and it increased our passion and vision for what God may be doing."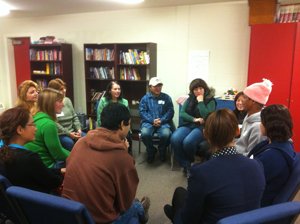 As people left the meal we handed out invitations to an English conversation group for a few days later. On Thursday night we opened the doors not knowing how many we might see. In the end we filled our classroom to capacity with 21 guests plus our volunteer conversation partners. Based on the feedback we got, many of the guests will return again and bring friends. We're moving quickly and putting things together as we go, but a clear sense of God's leading and a gathering group of leadership that is skilled, capable, and faithful. Although this part has moved fast, it's on the tail end of months of prayer, research, and building relationships. Next week may be whole other story, and I'm sure we'll end up learning a lot the hard way, but we're off to a great start! :)
– Submitted by Rev. Gordon Dickinson, Pastor of Community Outreach, Cornerstone Baptist (PE)
If you are interested in starting ministries to new Canadians or other intercultural ministries, please contact Paul Carline, Director of Intercultural Ministries. If you have stories like this you would like to share with the wider CABC family, please send your ideas to Andrew Myers, Communications Manager.