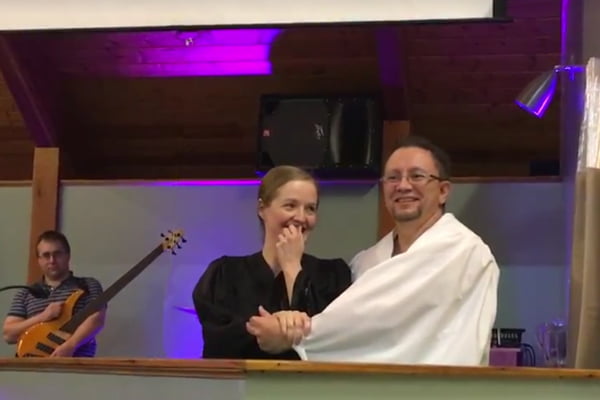 In our upcoming Connect brochure (that will be sent out to CBAC churches next week), we'll be highlighting some baptisms that occurred on Easter Sunday. We thought we'd share them with you here too!
Anytime is the right time for a baptism but to be baptized on Easter Sunday is extra special. This is the day we celebrate the resurrection of Jesus and his victory over death. In baptism, we show the world that we identify with Christ's death (lowering into the water) and resurrection (coming up out of the water) into new life in Christ.
On Easter Sunday 2017, Timberlea Baptist Church celebrated the baptisms of Jason & Alana Engram, Connor Chapdelaine, and Wayne Pickering. Rev. Michel Lechmann and Pastor Mat Wilton were honored to walk through the waters of baptism with these friends, and the church was blessed to celebrate new life in Christ!
Submitted by Rev. Louise Knowles, Associate Pastor Timberlea Baptist Church, Timberlea, NS

Do you have a baptism story to share? Send images and a write up here and we'll post it: communications@baptist-atlantic.ca