In Case You Missed Connect 2012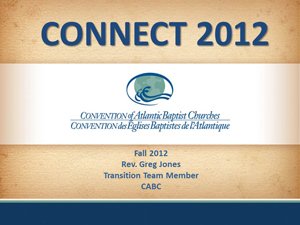 Earlier this past fall, Rev. Greg Jones hosted regional gatherings across NB, NS & PE speaking with and listening to pastors, church and association leaders about the changes in the CABC in recent months. Here are a few highlights:
– Staff changes
– New initiatives
– Nominating process
– Goals for 2025
We heard from some who wanted to be there but could not. So we decided to make this video of the presentation. The video component is only the slides from the powerpoint video. In case you missed Connect 2012, watch below or view here: https://vimeo.com/56036134 or http://youtu.be/uFW85zUwi_U.