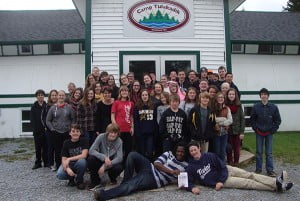 This years LINK moved to Camp Tulakadik, which is, situated on beautiful Cassidy Lake, just outside Sussex, New Brunswick. It was also held in October this year a little later than has been the norm. When the dust settled, we ended up having 35 campers and 14 staff who attended and had a great time together. As the director, I was the only participant that was not a ministry kid, but they accepted me as one of their own. As a first timer (and a pastor) it was really cool to see the comradery and support that the campers had with each other.
This year's special speaker was Zach Hapeman (son of Rev. Doug Hapeman) who came and shared with us from his own personal experiences of growing up in the home of a pastor. His theme was "The Zombie Survival Guide" where he shared about finding peace, purpose and the fullness of life through Jesus Christ. He said, "The world is slowly being overtaken by a mindless, consuming horde, the living dead, restless souls hungering for direction and fulfilment in their lives. But Christ calls us to come alive in Him, offering peace, purpose and life abundant to those who will first die to themselves."
All of our counsellors were pastor's kids, most who had been campers at LINK in years previous. Our worship was also lead by Jared Cook and a great group of other PK's. Through the weekend we had a great night game, some went on a hike to an old farm site, others studied for school, some down time to just chill, and others played some different games in the lodge. Saturday night's highlight was the variety show where the talents of this amazing group of kids was showcased and you just never knew what would happen or be shared. But as always, a great time had by all. On Sunday morning we stayed at the camp and shared in communion together as we committed ourselves to following Jesus and seeking to be His disciples in this world.
I want to say a great big thank you to the staff of Camp Tulakadik who cared for us, fed us very well and provided an excellent facility to host the retreat. Plans are already in process for LINK 2016, with one change. As Rev. Renee Embree shared, "For the last 11 years we have been able to offer LINK free to teens with a clergy parent in our CABC family. Starting in 2016 we will be charging a small amount to help offset some of the costs of the event." Read more here: https://baptist-atlantic.ca/wp-content/uploads/2015/11/LINK-cost-change-starting-2016.pdf.
Submitted by Rev. Donald Dunn.