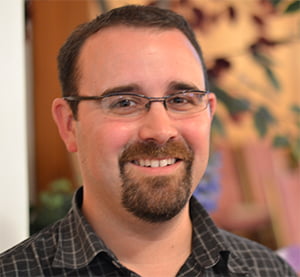 On April 1st, Adrian Gardner will be starting a part time position as an Associate Director of the Youth and Family Ministries Department of our Convention. He will work alongside the current staff, taking on specific responsibilities in Tidal Impact, Family mission tours and Potential Impact.
Adrian has served in the youth ministry of Grand Bay Baptist Church since 2000 and has been Associate Pastor there since July 2008. A graduate of the University of New Brunswick (B.Ed), he will graduate in May with a Master of Divinity from Acadia Divinity College. Adrian currently serves on the Youth and Family Ministries Working Group and is recognized by his peers as very passionate and effective leader who has a heart for helping the Church live out a life of mission.
Dale Stairs, Director of the Youth and Family Ministries Department said, "I am absolutely thrilled to have Adrian joining the Convention team. He is someone that people already look up to and I know his contributions will be greatly appreciated."
Since Marion Jamer finished her role with the department in September of 2012, the members of the department have felt the weight of added responsibility. Adrian's presence will definitely give a boost to the current staff (Dale, Jody & Jacqueline). Adrian will continue to serve part time at Grand Bay Baptist Church as Associate Pastor. He lives in Grand Bay with his wife and two children.