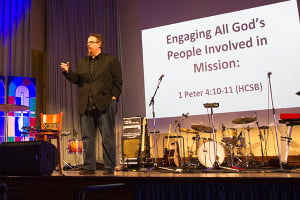 #Oasis15 happened! Were you there? The CABC family came together to celebrate what God is doing here in Atlantic Canada. Some even joined us via livestream.
Nearly 850 Atlantic Baptists from 208 churches shared some amazing and inspiring stories – churches sponsoring refugees, partnering in Tidal Impact, and churches becoming one church for the sake of the kingdom. We heard various languages spoken – Kikongo, Mi'kmaq, Finnish, Portuguese & Russian. God challenged and encouraged us through our speakers like Ed Stetzer & Peter Reid. We witnessed newly appointed international field staff as well as pastors approved for ordination here at home.
The heart of Oasis is how people encounter God at Oasis and how He impacts their life and ministry in unexpected ways. Check these out:
"A highlight would be the Soul Café and being able to have some much needed quiet time."
"Dr. Reid's encouraging message came at the perfect time as I was struggling with discouragement."
"It was truly amazing to hear of churches supporting each other."
"I always find the worship and teaching engaging and inspiring, a great way to launch into the fall ministry season."
"I enjoy being a participant at the Lord's Table instead of having to lead it all the time."
"I realized that God's got this…OASIS helped me see the bigger picture."
These are just a few comments from #Oasis15.
Come to #Oasis16 (Aug. 25-28, Crandall U, Moncton) to experience it in person! (http://oasis.baptist-atlantic.ca)
Watch the #Oasis15 recap video here:

Our prayer is that the impact will continue to ripple outward for our churches here in Atlantic Canada.