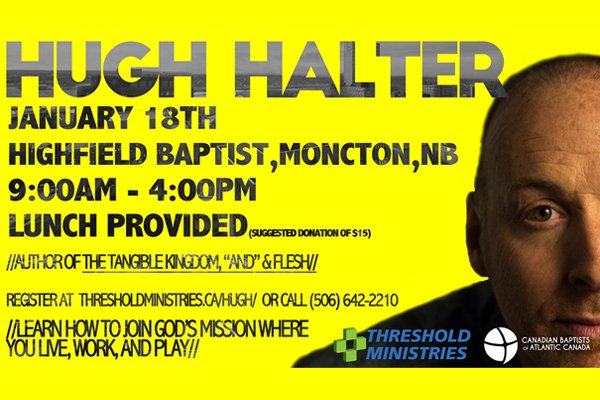 The church & culture in the Atlantic Canada is under incredible change. Social/political/financial nuances continue to make the idea of engaging culture and building church a head scratcher. What is needed is a 'missionary' people committed to live and lead in the incarnational way of Jesus. This GOOD NEWS will work but the leaders of this future church must understand:
*The Kingdom of God instead the kingdom of church.
*The Gospel DNA that anyone can live.
*The most transferrable church structure of the 'missionary community'
**What is Church and How does God build it?
*How to Apprentice Missionary leaders instead of pandering to consumers.
*Modern Day Trappists. Kingdom Entrepreneurs in the Marketplace
*The New BIVO (bi-vocational) option for leaders & laity.
*Missional Community in the Workplace
*Where leaders spend time for the greatest influence
*How people actually come to Jesus. The ancient way of incarnational evangelism
Join us for a one day event One-Day: "Re-Thinking Church…The way of Incarnational Mission" with Hugh Halter (author, speaker, church planter, consultant).
January 18, 2017
9:00am-4:00pm
Highfield Baptist Church (*note this change of venue)
Moncton, NB
No charge to attend. Lunch is provided (suggested donation of $15 for lunch & snacks).
Who should attend?
Church planters who want to enjoy the church planting process.
Pastors of any persuasion
Small group leaders, Lay Leaders and concerned saints
Business leaders who feel called to significant kingdom work
Cost: *No charge to attend. Lunch is provided (suggested donation of $15 for lunch).*
To help us plan for lunch, we need to know if you're coming.
Online registration – www.thresholdministries.ca/hugh.
Hugh Halter Bio: Hugh is a church planter, pastor, consultant, and missionary to the US. He is the U.S. Director of FORGE America, an apprenticing community committed to train men and women to live as missionaries where they already are. He is author of The Tangible Kingdom, AND…the gathered & scattered church, TK Primer, BiVO, Sacrilege, FLESH and Brimstone. Hugh speaks extensively around the world to laity and leaders. He is an advocate for disoriented God seekers and loves to inspire and re-orient leaders around incarnational mission in any form of church. He has three adult children and now lives on an urban ranch in Denver Colorado with his wife Cheryl. You can find Hugh at hughhalter.com and forgeamerica.com
Sponsored by Threshold Ministries & Canadian Baptists of Atlantic Canada.
For more info on Hugh check out http://hughhalter.com.