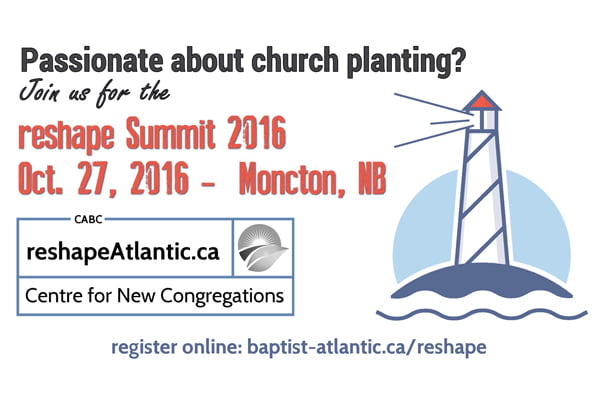 Are you currently involved in starting a new congregation in your neighbourhood? A brand new "church plant"? A new "site" of your church? A newly merged congregation?A new congregation within your congregation? A fresh new expression of church? Or is it your heart's passion to start something new to reach your neighbourhood or a new neighbourhood?
Mark Thursday October 27th, 2016 in your calendar! We will be hosting our first "reshape summit" for leaders, pastors, leadership teams that are starting or dreaming of starting something NEW!
This ONE DAY SUMMIT will be an opportunity to connect with other like-minded leaders and learn from veterans in the field.
Speakers:
Jerry Reddy of Hillside Baptist who will kick off our day.
Rob Nylen of Rivercross Church will share regarding "Effective Leadership Habits for the New Congregation Leader".
Phil Woodworth of Cornerstone Church will address "Critical Issues in the New Congregation".
Anna Robbins – Engaging Secular Culture
Stephen Elliot (Church Planting Centre, Kingswood University)
Others are yet to be confirmed and there will be lots of opportunity for questions and answers and roundtables. (Bonus: Jerry Reddy will provide tours of their cutting edge new facility!)
Don't miss this event! Momentum is building! God is RESHAPING our region for a NEW DAY
Reshape Summit 2016 Details:
Who: Pastors and leaders passionate about new congregations
Where: Hillside Baptist Church, Moncton, NB
When: Thursday, October 27th (9:30-4:00)
Cost: $25/person (snacks and lunch included)
Space is limited – only 100 tickets available. Book yours now!