Rev. David Morehouse Celebrates 30 Years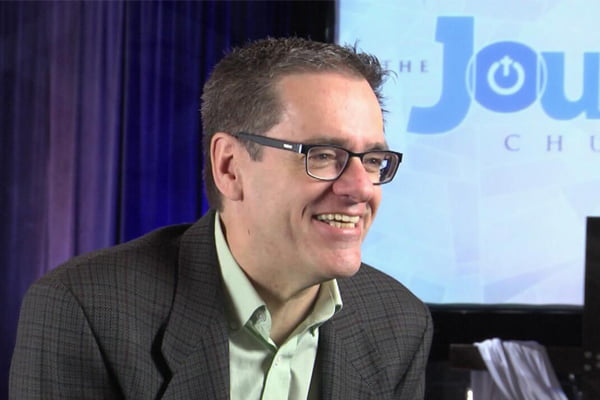 On October 5, 1986, a very young Rev. David Morehouse and his wife Nancy began their ministry at Allison United Baptist Church at the end of the Salisbury Road in Moncton, New Brunswick. He helped lead the church through various stages of growth that included an addition and renovation to the original space, a name change, and pioneering the multisite model with Brentwood Baptist Church becoming the Brentwood Campus of The Journey Church. It has been exciting to watch the growth that has taken place under his leadership.
So Pastor Dave, on behalf of our Executive Minister, Dr. Peter Reid, our President, Rev. Norman Pearce, and all our 450+ churches across Atlantic Canada, we offer our collective congratulations on amazing longevity in ministry in one place. Thank you for your leadership, your heart for the local church and your commitment to not standing still while listening to God's voice. God bless you and your family as you faithfully serve The Journey Church and our family of churches in the Canadian Baptists of Atlantic Canada.
Below is a special invitation from The Journey Church for a special celebration of Pastor Dave & Nancy's ministry on Saturday, October 8th @ 7pm.
It is with great pleasure that the leadership and congregations of the ministry now known as The Journey Church invite you to mark this anniversary.
Join us on Saturday, Oct. 8th, 7pm at our Allison Campus, for an evening of reflection and celebration with Dave and Nancy Morehouse on the occasion of their 30th year with one ministry. The evening will consist of a short program that highlights Dave's leadership, passion and personality, followed by an informal time of fellowship. Should you wish to send greetings to mark this occasion, you can do so by forwarding them to 30years@onthejourney.ca by October 7, 2016. We will be compiling these and presenting them to Dave and Nancy that evening.
If you have any questions about the evening or the greetings, please contact Todd Hisey at the church office, or at 30years@onthejourney.ca.