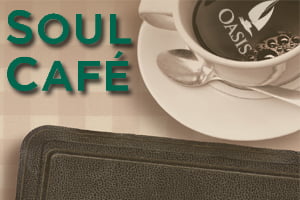 "Soul Café: Refreshment for the Soul" is a new experience in spiritual refreshment and formation at Oasis 2012. Soul Café will be an opportunity to experience refreshment that can only come from an encounter with God.
Why Soul Café?
Our mind, body and soul are in need of refreshment. In our busy hectic lives we long for the oasis of spiritual nourishment; those green pastures and refreshing streams of Psalm 23. Have you ever wanted to have a refreshing spiritual conversation? A conversation where you can share what is on your heart with a spiritual mentor who will listen, not only to your words, but to your heart and soul and most importantly to God for you? It is often in the environment of a refreshing spiritual conversation and relationship that we can find such spiritual refreshment.
What is Soul Café?
Soul Café is an opportunity to have spiritual conversations, to nourish your spirit. It is an opportunity to sit down with a spiritual mentor in the presence of God. Soul Café is also a designated place on campus (Stultz Hall Rm 203) with refreshments where you can find a quiet spot to meditate, read up on spiritual formation, learn a spiritual discipline or have a spiritual conversation with others. There are also a few smaller break off rooms for one on one conversations with a spiritual mentor.
What is a "Spiritual Mentor"?
A spiritual mentor is someone who has spiritual ears listening for God's word and Spirit for you. A spiritual mentor helps us to become more aware of God's presence in our lives and the quality of our relationship with God. Spiritual mentors don't tell you what to do. They help you listen to God for direction. Spiritual Mentors for Oasis 2012: Rev. Cheryl Ann Beals (Soul Café Director), Dr. Bob Berry, Rev. Tracey Grosse, Rev. Shawn Kehoe, & Rev. Marlene Knowles. You can read their bios here: Soul Cafe Spiritual Mentors Bios
What should I expect?
It often opens and ends with prayer. We begin by asking God: What to explore? What to focus on? And for the Holy Spirit's guidance. We continue with conversation and silence as the Spirit leads. The spiritual mentor facilitates the conversation with questions and comments that help you to explore deeper. Soul Café is an environment where you can share about personal or ministry related topics and conversations are confidential.
Available times are as follows: Wednesday afternoon 3pm-4:30pm; Wed, Thu & Fri evening following the rallies (8:45pm – 10pm); Thu-Fri afternoon (1-4:30pm). Visit the registration table at Oasis to sign up and view available time slots. While on campus you can also text Rev. Cheryl Ann Beals (see Oasis Welcome Booklet at registration). If you are interested in pre-registering for this you can email Cheryl Ann at carbeals@yahoo.ca.
Download Soul Cafe Brochure here.