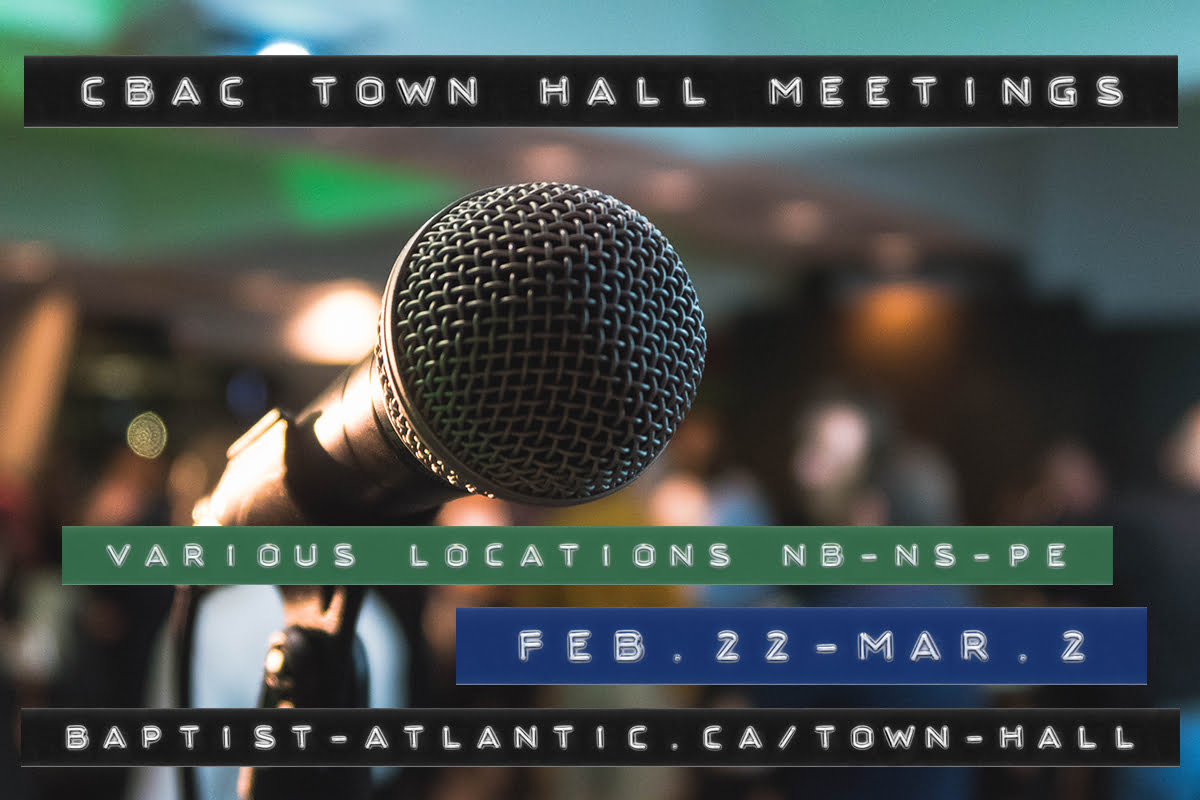 You're invited to attend a CBAC Town Hall meeting near you (or hopefully close to your area), February 22 – March 2. The CBAC Council is asking churches, pastors, lay leaders and anyone from CBAC churches interested to come out and hear what God is calling the CBAC to and what the future holds for us as a family of churches.
CBAC staff will be on hand to share updates with you regarding:
Goals to Further the Vision – Our vision is that all our churches would be joining God in their neighbourhoods. Are you dreaming about what that will look like? To get there, we're dreaming that God will move through His people in a way that we will see 3000 baptisms in one year by 2025. And we're looking for 3000 people to pray for 3000 baptisms. More details to come (baptist-atlantic.ca/3k43k).

How will we get there? Together!

65 New Congregations
300 Mission-edge neighbourhood churches
75 emerging pastor-leaders (150 new pastor-leaders in total)

Come hear more about how your church can be a part of this exciting movement.

Relevant resources available for you and your church. 
Associations –
Upcoming events and more!
There will also be a time for feedback and brief conversation.
Our goal is that the locations will be within a 90 minute drive for approximately 80% of our CBAC churches. If you live in an area that we will not be, or if you're just not able to attend, we plan to record one of the meetings and can make it available to you online.
Please note that each meeting will be two hours in length.
Please partner with us in encouraging people to attend. Click here for a slide to show in your churches: CBAC Town Hall HD Slide.
Below is the schedule:
| Date | Morning: 9:00 – 11:00 am | Afternoon: 2:00 – 4:00 pm |
| --- | --- | --- |
| Thursday, February 22 | Lancaster Baptist Church, Saint John, NB | |
| Monday, February 26 | True North Church, Florenceville-Bristol, NB | Faith Baptist Church, New Maryland, NB |
| Tuesday, February 27 | Hillside Baptist Church, Moncton, NB | Cornerstone Baptist Church, Cornwall, PE |
| Wednesday, February 28 | Birch Cove Baptist Church, Halifax, NS | Bridgewater Baptist Church, Bridgewater, NS |
| Thursday, March 1 | Hebron Baptist Church, Yarmouth, NS | Middleton Baptist Church, Middleton, NS |
| Friday, March 2 | Wolfville Baptist Church, Wolfville, NS | Immanuel Baptist Church, Truro, NS |