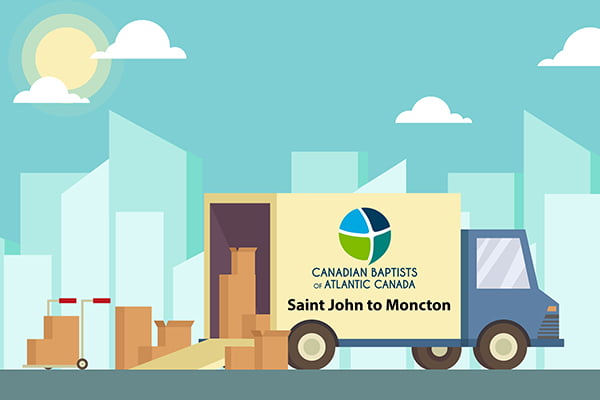 We're excited to announce that we're moving … finally!! This has been a long time coming! From the initial proposal to sell, to the actual permission given by the churches, to the offer, to the first announcement of the move, the delays, the further delays, and now finally – on September 28th, the CBAC office will move from 1655 Manawagonish Road in Saint John to 333 Gorge Rd. in Moncton, NB. On Monday evening (September 24), Saint John City Council passed the motion required to allow us to sell building.
What does the move mean?
Moving Day – The office will be packed up by September 27th and the movers will come on September 28th. The contents will be moved that day and delivered to Moncton.
Phone Numbers – We're thrilled to say that (as far as we know) our phone numbers will not change! Main number – 506-635-1922; Fax number – 506-635-0366 –
If all goes according to plan (and we pray it does), the phone will still ring when you dial 506-635-1922. On the 28th, we may not be able to answer since we're moving. A temporary phone system will be in place for a few weeks before our permanent phone system is in place. Please bear with us as we get up and running in our new space.
New Mailing Address –
PO Box 6003
Moncton, NB
E1C 0V7
If you use our old address, don't fear – we are having our mail forwarded for a while. But at some point we won't be forwarding mail. So please correct your info with the new address. Also, some people are still using our old name (Convention of Atlantic Baptist Churches) and, believe it or not, even our old old name (United Baptist Convention of the Atlantic Provinces). Please make efforts to correct these to our new name.
New Civic Address – 333 Gorge Rd., Moncton, NB E1G 3H9
Cell Phones and Email Addresses – these things will not change. Email addresses and cell phones will stay the same.
If you've moved, you'll know that there are unforeseen hiccups and interruptions. In case of hiccups or interruptions, please bear with us! We'll keep you updated via the website and social media when we're up and running or if we encounter interruptions.
Thank you for your patience and support during this process.