York Association Gospel Kitchen Party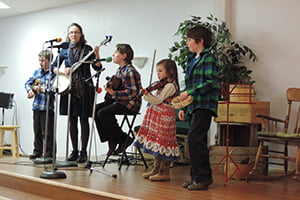 York Association of Churches came together in a big way around the 'kitchen table' at the Gospel Kitchen Party @ Marysville Baptist Church on Sunday, April 26th at 7:00 pm. We heard from young and not so young through the ministry of music.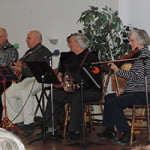 Our hearts sang and our toes tapped as we celebrated God's goodness through the very gifted Gilbert family from Nashwaak Village Baptist and the Douglas Fisher Folk from Douglas Baptist; the guitar/solos from Jarad Cook (Greenwood Baptist), Derek Langile (Millville Baptist); song solos from Denise Hoyt (Nackawic Baptist) and Marsha MacArthur-Jones (Brunswick Street Baptist); worship teams from Marysville Baptist and Faith Baptist; Maggie Brewer on Fiddle (Douglas Baptist); and even a guitar/solo from Kelsey Nevers with a sign-language presentation from Natalie McAleer & Nadine Facini (Greenwood Baptist).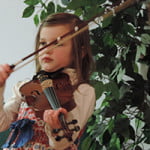 Moderator, Pastor Larry Matthews and his wife Cheryl hosted the party from the 'country kitchen' on stage. The 180 who attended blessed the York Association Chaplaincy ministry with an offering of $748 and enjoyed an ice cream social after the party.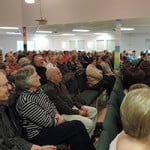 As an Association of Atlantic Baptist Churches, we are endeavoring to find innovative ways to come together to strengthen our relationships and connections. Learning who is part of our 'family' is one of the steps in getting to know each other. It was very rewarding to hear those sitting behind me asking me where Faith Baptist was located as their worship team came to the stage. I was able to turn around and share with them where these folks were from. As groups of people gathered around the circles of chairs in the gym to eat their ice cream sundaes, it was with delight we saw people laughing, chatting and getting reacquainted. Who thought such a simple idea could be so fun, so engaging, and yield such results.
Submitted by Rev. Laura Sherwood