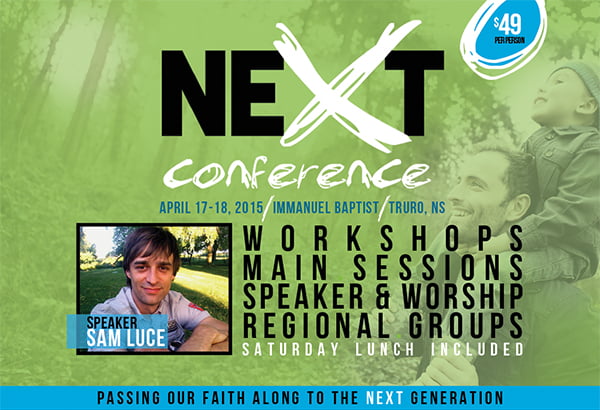 Finally!! A training conference just for children's workers! The NEXT conference is all about passing our faith along to the NEXT generation. Registration is only $49 and you receive a great speaker, awesome workshops, worship and lunch! Don't miss it!
2015 details:
Dates: April 17-18, 2015
Location: Immanuel Baptist Church, Truro, NS
Speaker: Sam Luce, Pastor, Redeemer Church, Utica, NY
Worship Leader: Tammy Giffen & Family
Cost:

Full event: $49 until March 29th; $59 March 30th-April 15th; $65 at the door
Friday only: $20 until March 29th; $30 after March 30th

Online registration OPEN NOW!
Accommodations: If you require, we have a negotiated rate with the following Truro hotels under "Convention of Atlantic Baptist Churches":

Super 8: $89 includes a continental breakfast (1-902-895-8884)
Best Western: $95.99 (1-902-893-4311)
Registration is now closed. You can still register at the door!
If you have questions, please contact the NEXT Conference Registrar Jacqueline Derrah by email or phone 506-635-1922 ext. 115.
More:
1. Registration starts on Friday night at 6:30pm.
2. Coffee will be available throughout the conference.
3. Lunch on Saturday is included in your registration and is a great time for networking with other leaders.