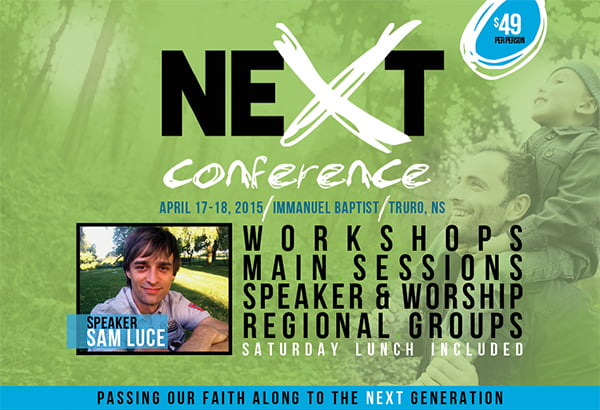 Finally!! A training conference just for children's workers! The NEXT conference is all about passing our faith along to the NEXT generation. Registration is only $49 and you receive a great speaker, awesome workshops, worship and lunch! Don't miss it!
2015 details:
Dates: April 17-18, 2015
Location: Immanuel Baptist Church, Truro, NS
Speaker: Sam Luce, Pastor, Redeemer Church, Utica, NY
Worship Leader: Tammy Giffen & Family
Cost:

Full event: $49 until March 29th; $59 March 30th-April 15th; $65 at the door
Friday only: $20 until March 29th; $30 after March 30th

Online registration OPEN NOW!
*Trouble viewing form? Click here:
https://atlbaptist.wufoo.com/forms/wz1gsci1cmovx6
If you have questions, please contact the NEXT Conference Registrar
Jacqueline Derrah by email
or phone 506-635-1922 ext. 115.
More:
Sam Luce
I have been a pastor at Redeemer Church in Utica NY for the past 18 years. 14 of those years serving as children's pastor. Currently I am serving as the Utica Campus Pastor and the Global family pastor.
I am currently a contributing editor to K! magazine, serve as chairman of INCM, co-authored "The Eric Trap", have been involved in several book projects, and been blogging here since 2007. I have spoken at conferences and have done some consulting and coaching. My real passion lies in preaching the gospel, building and strengthening the local church in any way possible because I believe in creating environments where life change can take place. I truly believe that the local church is the hope of the world.
I have been married to my beautiful wife for 16 years together we have 4 beautiful children ages 10, 7, 5 and 1. We currently live in Upstate New York.
---
Please share these with your churches!
1. Registration starts on Friday night at 6:30pm.
2. Coffee will be available throughout the conference.
3. Lunch on Saturday is included in your registration and is a great time for networking with other leaders.
4. You will receive an update in March with a list of workshop titles and leaders.

---