Public Witness & Social Concerns
In Acts 1:8 Jesus says to His disciples, "But you will receive power when the Holy Spirit comes upon you; and you will be my witnesses in Jerusalem, and in all Judea and Samaria, and to the ends of the earth."
Atlantic Baptists are committed to being faithful witnesses to the grace of God as we live in the world. We strive to understand and convey truth on social and moral issues as we engage our society in the public square.
If you would like to find more about how this department can help your church, please contact Dr. Lois Mitchell, Director of Public Witness & Social Concerns.
---
What is Public Witness?
Child Abuse Prevention
Choosing Life
Family Violence
Gambling
Pornography
Racism
Racism Working Group
Sexual Orientation
War and Peace
Euthanasia
Other
Public Statements and Discussion Papers
Articles Written for the Atlantic Baptist
Articles Originally Published in the Tidings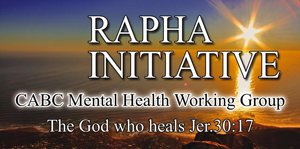 The Rapha Initiative Working Group has been re-invented as the Rapha Network. As a network, we can involve more people in the vision of reducing stigma and raising awareness around mental health and mental illness. Lots of good things are happening throughout Atlantic Canada – in our churches and in our communities – and we want to encourage as many people as possible to be involved in positive ways in this growing movement of care and concern. So, in 2012 we are no longer a working group of our Convention; we are now a network and there is room for you to join us! The facebook link will take you to our facebook page. Anyone can see the posts on the page but in order to fully participate, you must request membership status. As a member you're welcome to share ideas, resources, events, etc. Let's work together, encouraging one another, as we continue to reduce stigma and raise awareness! Join the
Rapha Network Facebook Group
.
The vision for this network is found in Jeremiah 30:17a
"But I will restore you to health and heal your wounds, declares the LORD, because you are called an outcast…"
Rapha means healer. We desire that our churches might be places where a God who heals can use the church family to provide settings of healing and hope for those whose lives are affected by mental illness and where we may celebrate His goodness to each of us.
---
Produced by the Rapha Initiative, a Working Group of the Convention of Atlantic Baptist Churches (Public Witness & Social Concerns Department), this video as a means of encouraging people in our churches to think about mental health and mental illness from a more informed perspective.
---
RAPHA Resources
An Awakening of Compassion: A Christian Perspective on Mental Health. A Rapha Initiative DVD resource for churches and associations. Available through your local Association or by contacting Dr. Lois Mitchell. Download the study guide here: An Awakening of Compassion DVD Guide.
Proposed Resource Lists:
Links:

The Church and the Care of the Mentally Ill – An article on Christianity.ca by Dr. Roger Cann
The final report of the Kirby Commission on Mental Illness in Canada, entitled Out of the Shadows At Last: Transforming Mental Health, Mental Illness
Homeless is Worse, a lot Worse: An article on SalvationArmy.ca
www.theraveproject.com – RAVE is an acronym for Religion and Violence eLearning. It is an initiative that seeks to bring knowledge and social action together to assist families of faith impacted by abuse.