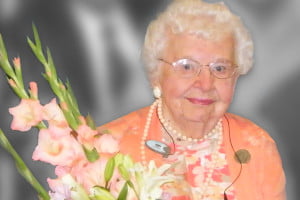 On Sunday July 12, 1936, a young lady named Marjorie Franklin was formally welcomed into membership at Hill Grove United Baptist Church, located in Acaciaville, just south of Digby, N.S.
On Sunday July 12, 2015, this same lady, now known as Marge Minard, celebrated the 79th anniversary of her becoming a member of the church. During the service, a special presentation was made to Marge on behalf of the church.
Marge is the eldest of 6 children born to Thomas and Beatrice Franklin. All 6 children eventually became members of Hill Grove Church. They are all still alive and several of them and their respective children and grand-children are still actively involved with Hill Grove to this day.
Marge was born in a house just around the corner from the church. She attended Acaciaville School which now forms the front half of the Hill Grove Church Hall.
In 1936, all Hill Grove baptisms took place in the Joggins Bay River, located at the bottom of the hill from the church. Pastor Alvin Robertson did the honours.
Growing up with Marge and attending the same school and Sunday school was a young man named Orbin Minard. On September 7, 1946, Marge and Orbin were married by Pastor Alvin Robertson, father of Pastor Don Robertson who once served as pastor of Hill Grove Church and is now Pastor Emeritus of Digby Baptist Church. This marriage produced 2 children, Roger and Beulah, both of whom became church members in 1965. In 1998, the Lord chose to call Roger to His side. Although Marge was heart-broken about this, she was never bitter and accepted the fact. As Marge says, "It was God`s will that he was taken to a better place."
Over the years, Marge has been a steadfast member of Hill Grove. She was part of the young people`s group and is still a faithful and long-standing member of the Hill Grove Women`s Missionary Society, now known as the Lavinia E. Wilson Missionary Society.
Marge is admired and well-respected by all and has many good and close friends. She has always done her best, has no regrets and has achieved all the happiness that anyone could hope for. Marge is a sterling example to us all and we are better individuals by knowing her.
Submitted by Doug McLeish
On behalf of the CABC, congratulations Marge! Your faithfulness is a testimony to your love of God. Thank you!