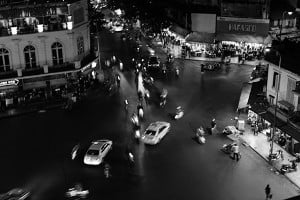 The Paris and San Bernardino killings coupled with desperate Muslim refugees in need of hospitality have brought many disciples of Jesus to a crossroads.
Radical commands like: love your neighbour, love your enemy, do good to those who hate you, show hospitality to strangers (and the list could go on) are being pitted against rational arguments like: we must first consider those we are more responsible for, if we don't help ourselves we won't be able to help anyone (put your own oxygen mask on first), feel-good solutions don't address real issues (and the list could go on).
Christ's advent brought people to a crisis. Mary and Joseph faced their fears while Herod panicked and killed babies. Simeon said Jesus would cause the falling and rising of many, revealing their true hearts, and this Christmas the Christ-child comes to us as a refugee – maybe even a Muslim refugee. Decision time.
Such crossroads are good for they expose our idols – our functional gods. They are intersections of faith, giving us the chance to choose the real God above anything else.
Why would we want anything else? Well it's those darn idols. They're good things to which we're tempted to look for what only God can ultimately give – things like peace, joy, purpose and affirmation.
The main idols in our present dilemma are like the four roads of an intersection or the two divergent routes of a fork. Prosperity and/or security vie with service and/or evangelism. We look to the first set for comfort and control (the drives of nationalism). We look to the second for respect and reward (the drives of moralism).
Arguments justifying these idols sound like:
We shouldn't host refugees because…

Jobs, services, or resources are limited
The Islamic worldview is regressive and aggressive
Safety must be a primary concern

We should host refugees because…

We just should
They're needy and we're blessed
What an opportunity to share Christ's love and make disciples!
Forgive the oversimplifications. These and other arguments could all be made better, but it's not a question of which is better: stability or sacrifice. It's a question of what God is calling us to do. What do trust in, love for and obedience to God look like in this situation?