Crandall's Youth Leadership Certificate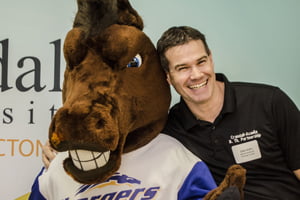 Crandall University is pleased to announce that Dale Stairs, Director of the Crandall-Acadia B.TH. Partnership, will also assume the leadership of Crandall's Youth Leadership Certificate at the end of this academic year. He has over 25 years of youth ministry experience, having served in the Youth and Family Ministries Department for the Convention of Atlantic Baptist Churches (2005-2013), as Associate Pastor at Kennebecasis Baptist Church (1998-2005), Pastor of Wolfville Ridge United Baptist Church (1995-1998), as well as an adjunct youth ministry lecturer at Acadia Divinity College (2007-present). Along with his wife Twila, he is currently a volunteer youth leader at Lower Coverdale Baptist Church.
Dale has a B.A. in Biblical Studies from Crandall University, a M.Div. from Acadia Divinity College, and is currently working on a Ph.D. in the area of youth discipleship from the Free University of Amsterdam. He has served as a North American member-at-large to the Youth Committee of the Baptist World Alliance (2010-2013), as well as a member of the international program committee for the 2013 BWA Youth Congress held in Singapore. He is a member of the Evangelical Fellowship of Canada Youth and Young Adult Roundtable (2011-Present).
As the director of the Youth Leadership Certificate, Dale will provide students with youth ministry internship opportunities in local churches, ensure they have some great youth ministry courses to take, and lead a weekly small group for the students.