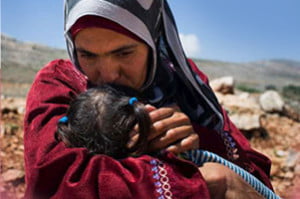 "I was a stranger, and you invited me into your home." Matthew 25:35
Over the past few weeks we've all seen the rise in news stories about the refugee crisis particularly in the Middle East. The horrifying stories and images of people attempting to flee desperate situations are seared in our memory.
Since 2011, 4 million Syrians have been displaced.
Worldwide, 20 million refugees hope for a new life and a new home.
The CABC continues to be committed to respond to this refugee crisis.

For more than 25 years, the CABC has been a Sponsorship Agreement Holder with the Canadian government, one of three organizations in New Brunswick. Early in 2015, Canadian Baptists committed to sponsoring 100 families affected by the crisis in the Middle East. Atlantic Baptists committed to sponsoring 50 families.
We are excited to see CABC churches responding to this call:
40+ CABC churches are currently involved (many collaborating with other churches/groups);
30+ refugee sponsorships in process;
9 groups have or are about to select families.
Intercultural Ministries Director Rev. Paul Carline has been overwhelmed by the response from our churches. On a daily basis he is receiving inquiries from CABC churches, other denominations, municipalities and media outlets. This is exciting and encouraging, but the extra demands on Paul's time and the CABC resources are being stretched to the limit.
We are committed to responding to all requests, but we need your help!
We believe that God has has prepared us for this time and has led us to be involved. But we need you to be involved too!
Here's what you can do:
Pray – God is clearly leading us and we have been presented with this incredible opportunity. Pray that we will be good stewards and that more churches will answer the call. Also Remember CBM and the Lebanese as they help 20,000 refugees in Lebanon.
Sponsor – Your church could be directly involved helping refugees.
Support – If you're not involved in sponsoring you can still come alongside others that are and offer support.
Advocate – Write a letter or email to your MP. Solutions need to be found in the Middle East but Canada needs to be much more welcoming. We're working on a template letter you can use. When ready this will be available on our website.

Donate – Our Director is responding to every request for assistance and desires to continue to do that. However our financial resources are limited. We will continue to respond but YOUR GENEROUS SUPPORT will enable us to do more. PLEASE CONSIDER a special gift to the CABC to help during this critical opportunity. Give now: https://baptist-atlantic.ca/donate.

Please share this message with your pastor, churches and communities!
Download bulletin insert here: https://baptist-atlantic.ca/wp-content/uploads/2015/09/syrian-refugee-crisis-bulletin-insert-2015.pdf

When you give to the CABC for refugee sponsorship, here is what your gift will help us with:

Paul's travel expenses as he works with churches and other groups across Atlantic Canada who are seeking to sponsor refugees;
Other volunteers assisting Paul in administrative support and meeting with churches;
Additional administrative support;
Promotional material;
Financial assistance to churches involved in refugee sponsorship.

---

Other Links: