Refugee Sponsorship: Fuelled by Joy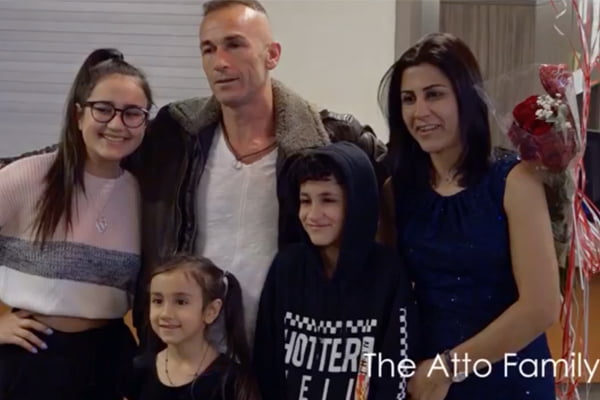 In June 2016, I traveled to Lebanon for 2 weeks with others from across Canada. In addition to attending the annual Middle East Consultation meetings, CBM coordinated for visits with our Baptist ministry partners, churches and other agencies who are working with refugees seeking asylum in Lebanon. We had the privilege of meeting with refugees in their homes and hearing their stories of how war/conflict caused them to flee and their struggles living in asylum with very few rights and privileges.
It was an amazing experience to see Baptist Churches of 50 – 100 people who are meeting very practical needs for hundred or thousands of refugees who had arrived in their neighbourhoods.  Pastors continued to tell us that they could have never prepared for the opportunities they had been given. They didn't have time to fundraise, form committees and planning teams to develop strategies to meet the needs… the church…the people simply rose to the situation and the Baptist Church had become a place of hospitality that is holistic in nature; meeting physical, social and spiritual needs.
Opening schools for children in their church basements.
Partnering with professionals to offer medical clinics.
Partnerships with non government organizations to provide monthly food hampers to families in need.
The Baptist Seminary was training and equipping believers to share the good news of Jesus to a broken world, especially to their Muslim brothers and sisters.
During that visit, one of our ministry partners asked if we could assist with the sponsorship of a Christian family to come to Canada. Najib Atto left Syria and went to Germany to find work and a home for his family. Circumstances made it impossible for Shirin and their 3 children to follow so they sought asylum in Lebanon. Shirin and her children found community in one of the Baptist Churches but life was hard as they lived apart from Najib. The Journey Church (Moncton, NB) quickly agreed to be the sponsors for this family of 5, covering all of their expenses for 1 year after they arrived in Canada and providing settlement support. Shirin and the children arrived in Canada August 2017 and were reunited with Najib when he arrived on Nov. 5, 2018.  Here is a short video of the reunion at the airport: https://www.facebook.com/Jarvis.Lepper/videos/10156915873945406/.
The CBAC continues to celebrate the way that our Baptist Churches have responded to the global refugee crisis. Our churches have worked in partnership with other denominations, other community groups and private citizens to help facilitate sponsorships from all around the world. We have seen hundreds of families arrive since the Syrian crisis made media attention in the Fall 2015. We have helped to facilitate sponsorships in all 4 Atlantic Provinces. A significant number of churches are facilitating their 2nd and even 3rd sponsorship to help reunited family with loved ones.  God has allowed us to be part of some amazing opportunities:
Families experiencing hope and new beginnings in Canada after being rescued from unbearable circumstances in Africa and the Middle East
Families being reunited after being separated by war and civil conflict
Sick people receiving medical treatments: 3 children have received organ transplants, surgeries and medical treatments for curable/manageable medical conditions (that were not accessible for refugees)
New babies being born
Men securing employment to provide for their families.
Children in school and adults pursuing secondary education at Colleges and Universities
Other countries around the world are developing refugee sponsorship programs that model the Canadian program, which is primarily being led by Canadian churches, who have made our program a tremendous success.
As the CBAC challenges its members to join God in our neighbourhoods, we continue to see the body of Christ rising up to provide hospitality to newcomers. As Christians, we are providing physical, emotional and spiritual support to newcomers who have overcome challenging circumstances to get to Canada where they can make a fresh start. The barriers of culture, language, religion and social class have been replaced with compassion, love, joy, generosity and open handed giving as we see newcomers as children of God who are entitled to the very best that He has in store for them.
It's not too late! If your church would like to be involved in refugee sponsorship then please contact us to learn more. There are 3 primary ways that churches can be involved:
Relationships with newcomers who are already here.  In many instances, they have no extended family in Canada so we have opportunity to build meaningful relationships.
Sponsorship through the BVOR Program where the government identifies a family that you can sponsor and provides 6 months of the settlement support for the family.
Named sponsorships, where the church identifies a family (often relatives) that you wish to sponsor.
I'm thankful for the amazing men and women all across Atlantic Canada who selflessly give of their time, energy and money to support refugees. I'm fuelled by the joy that you find in serving our Canadian newcomers. As we prepare to bring 2018 to a close, my hope and prayer is that you will continue to be generous with your time, money and your talents to continue to support refugees and also those in our communities who could benefit from your gifts of hospitality.
– Jacqueline Derrah