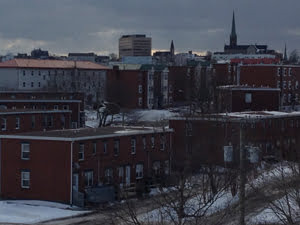 In a Saint John living room there's a prominently placed photo of a tall, dark and handsome, mustached man with his hands on the shoulders of a young, round-faced boy.
"That's my husband with Ali*," explains a smiling, pleasantly plump, Pakistani woman (obviously the source of Ali's roundness). Her smile contorts as tears fill her eyes, so Ali (now 19) continues: "He was called to meet someone and never returned home. My younger brother went looking for him and never returned. Later when we saw our father's body there were bullet holes here and here and here…" Ali's finger touches his forehead three times and his torso at least another three. "We never saw our brother's body."
One of Ali's older sisters is listening in the doorway, stuck on the threshold, not wanting to remember, not wanting to forget. I listen, horrified and honored – on holy ground – the sacred arena of people's lives. Am I really just a few miles from home?
When there comes here…
If I was under the illusion we'd left such troubles in Africa, I'm being cured. The Taliban might be far away, but this family lives close by, bringing this far off incident near. They are married to it, marked and molded by it. Ali is writing his driving test on Monday (I was in their apartment helping him study). I don't think he'll pass (again) and I'm sure his learning disabilities are trauma-induced. I also can't imagine how his two sisters or mom will ever "fit in" here. But they are here. And they've brought there here.

Yesterday, as Ali slowly staggered and stuttered through each syllable of every road sign caption, I doubted more than once if I, the Director of Inter-cultural Ministries, was using my time wisely.
But global discipleship (which we frequently wax eloquently on) probably has more to do with a short visit to my neighbors than a short-term mission trip to Namibia.
It means being interrupted and inconvenienced by world news that has unfortunately come very close to home for someone living very close to my home. It means letting my "here" be marked and molded by their "there".
Ali's family has invited me into their lives. Will I go there? Will I stay there? (I suspect teaching Ali to read in his living room will be easier on me than teaching him to drive in my car. Will it, too, get marked and molded?)
"Just as there were many who were appalled at him – His appearance was so disfigured beyond that of any man and his form marred beyond human likeness – so will he sprinkle many nations…" (Is. 52:14-15a)
In establishing his kingdom, the usual violence that allows regimes to change and continue fell on Christ himself. Our "there" became his "here".
"Surely he took up our infirmities and carried our sorrows." (Is. 53:4)
Submitted by Paul Carline, Director of InterCultural Ministries
(*Name changed)