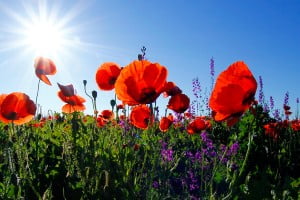 Our church service yesterday started with "O Canada" as we remembered those who've fought for our freedom. After that (though my Pavlovian senses were cued for a hockey game) we raised our voices and hands to God (okay, mostly our voices). We love our country and want to protect it and see it prosper, but our ultimate allegiance is to God and his kingdom.
Many oppose the welcoming of refugees, especially Muslim ones, on the grounds that it's not in Canada's best interest (though a Canada without immigration would mean a world without Canada). The arguments are mostly fear-based and unfounded, but not all. Some are simply common sense – caring for yourself is smart (like putting your own oxygen mask on first) while looking after the interests of those who might not look after yours is stupid.
God, however, has commanded us to love our enemies. So, we're giving over-the-top hospitality to refugees caught up in, and spat out by, civil wars in the Middle East and elsewhere. In doing so we're certain Canada will be blessed and kept strong and free from the selfish fear that grips the world. But even if it's not, even if such radical welcome does nothing but undermine the country our veterans sacrificed to save, we must obey God.
Ultimately, we don't do it for Canada but do it in remembrance of Jesus Christ who volunteered to fight for the freedom of the whole world. We do it lest we forget how he bravely entered the field and consciously made the ultimate sacrifice for us – his enemies.  We do it because he sponsored us, at great cost, and brought us into his family. We do it because his love changed us. We do it because we can't help it.
God, keep this land glorious and free.