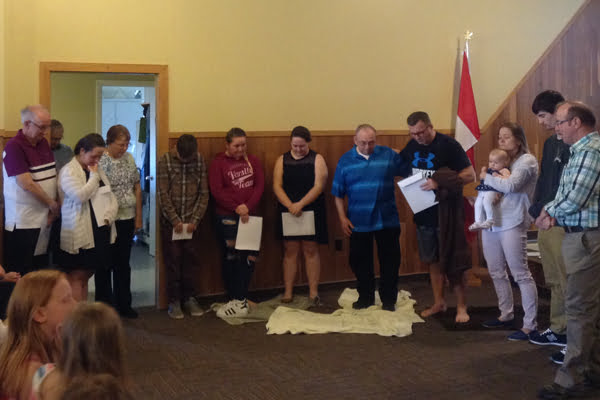 Here's part 4 of our Easter Sunday baptism series. This one was submitted by Rev. John Tremblett, Senior Pastor of Beechwood Baptist Church in Beechwood, NB.
Baptism is always an exciting time of new life in a church. In April, Beechwood Baptist Church was privileged to witness nine baptisms. On Easter Sunday three people were baptized – a young couple that have been attending for about 2 years: Curtis and Alicia Peterson; also a 20 year old Cody Rogers who was saved about four months earlier.
On April 30th, six people were obedient to the Lord in the waters of baptism: John and Lorna Cahill, their grandchildren Kailey and Kyley Cahill (15 years old), and their sister Andrea (13 years old). Also Branden Cogswell who is 13 years old.
We had the great privilege of walking through the waters of baptism with each one. Eight of those baptized have come to faith in Jesus within the last year and all were welcomed into membership at Beechwood Baptist Church. Our prayer is that we will truly be the salt and light that Jesus has called us to be in the community in which God has placed us.
In Christ
Rev. John Tremblett
Read the others in the series here: