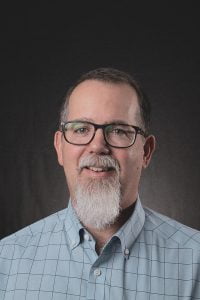 Assistant to the Director of Leadership Development/Oasis Director
506-635-1922 ext. 1005
Email Andrew


@andrumyers
Andrew has deep roots in the CBAC. His dad was a pastor for may years serving in several churches and communities across New Brunswick and Nova Scotia. It was through these experiences that a deep appreciation for the church in Atlantic Canada grew.
He earned a B.A. from Crandall University in 1991 and an M.A. in Counselling from Providence Theological Seminary in 1991.
Andrew served on CBAC Council for 2 years before coming to work for the CBAC in 2009 as Communications Manager. In 2013 he took on the role of Oasis Program Director giving leadership to the program aspects of Oasis in addition to the Communications department.
In 2018, he took on the role of Assistant to the Director of Leadership Development, taking over from Dale Taber as she retired from many years of service. He continued in this new role and the Communications until April 1, 2019 when Ron Scott came on in the Communications role.
Under the Leadership Development department and with Dr. Garth Williams, Andrew offers support to the Board of Ministerial Standards & Education, Examining Council and pastors at various stages of their process towards ordination and credentialing with the CBAC. He also manages marriage permissions for CBAC pastors. One of the Leadership Development's key focus Andrew will help move forward is the search for 75 emerging leaders and 75 pastor leaders (total = 150) by 2025.
Andrew is married to Kelly and they have two beautiful daughters – Lauren & Leah. They live in Sussex Corner, NB.